Boeing-Heavy ETF Is Shedding Investors Spooked by Trade Spat
(Bloomberg) -- Investors pulled record amounts of cash from a fund with a heavy position in Boeing Co. as aerospace and defense companies find themselves in the crossfire of tit-for-tat tariffs between China and the U.S.
The iShares U.S. Aerospace & Defense ETF, or ITA, posted a record outflow of almost $214 million on June 19. The fund also absorbed about $310 million of volume, the most ever and more than five times the average daily turnover for the past year.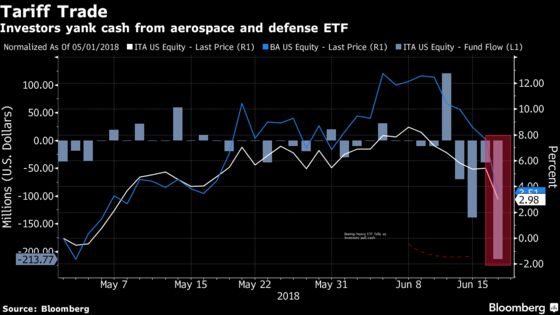 Boeing, widely considered a trade war proxy, had the biggest impact on ITA's 2.5 percent plunge, Bloomberg data show. Shares of the world's largest aerospace company have hit some turbulence recently, falling as much as 4.6 percent on Tuesday, the most intraday since April 24.
The S&P 500 Index aerospace and defense group slightly recovered Wednesday, climbing 0.2 percent. And for some strategists, the stocks have "already beaten the rush and are discounting a healthy global slowdown from trade," according to Christopher Harvey, Wells Fargo's head of equity strategy.
"Assuming we don't enter a full-blown trade war, which we don't believe, the groups appear to be setting up for a decent three-to-six month trade," Harvey wrote in a research note. "We feel Trump's negotiation style is to initially be aggressive -- he wants action and tries to cajole individuals to the table."