A Trader Just Sold $321 Million of an EM Local-Currency Bond ETF
(Bloomberg) -- One emerging-markets bond investor is pulling the plug. Blame the U.S. dollar.
The VanEck Vectors J.P. Morgan EM Local Currency Bond ETF, or EMLC, absorbed a single, massive block sale of almost 19 million shares, worth $321 million, at 10:28 a.m. in New York Wednesday. The trade helped push its daily volume to a record $399 million as of 12:21 p.m., about 13 times the average daily turnover during the past three years.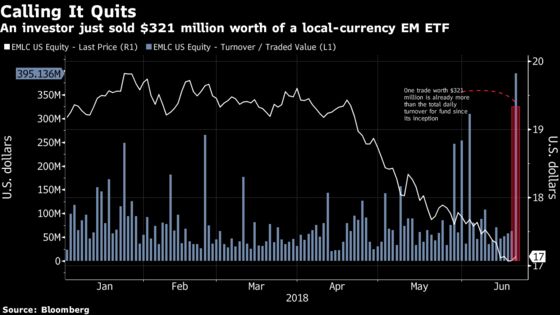 Bank of America Corp. and Charles Schwab Corp. each held more than 19 million shares of the fund based on their quarterly filings as of March 31, according to Bloomberg security ownership data.
Local-currency bonds from emerging markets were burned in April when the dollar started climbing, as their returns to foreign investors are automatically squeezed if the greenback strengthens. And they haven't recovered as the U.S. currency has continued rising. A Barclay's index for local-currency bonds from developing nations is down for a sixth consecutive day and has fallen over 5.5 percent since early April, while the MSCI index for currencies has declined around 4.7 percent.
"Investors don't really seem to have any convincing case for improving fundamentals, so EM is likely to remain at the mercy of USD and core rates for the time being," Bank of America Merrill Lynch strategists David Hauner and Claudio Irigoyen wrote in a note Wednesday.