Venezuela's Constituent Assembly Names Cabello as President
(Bloomberg) -- Venezuela's all-powerful Constituent Assembly named Diosdado Cabello as its new head, following President Nicolas Maduro's cabinet shuffle last week.
Cabello, second-in-command of Venezuela's ruling United Socialist party, will take over for Delcy Rodriguez, who Maduro recently tapped as vice president. The Maduro-created Constituent Assembly rules over all other government bodies, and is deemed by the U.S. and its regional allies as an illegitimate institution packed with Maduro loyalists.
"We must begin anew, I'm asking for ideas," Cabello, 55, said following his swearing in ceremony. "I will do everything I can so that our people feel proud of this Constituent Assembly."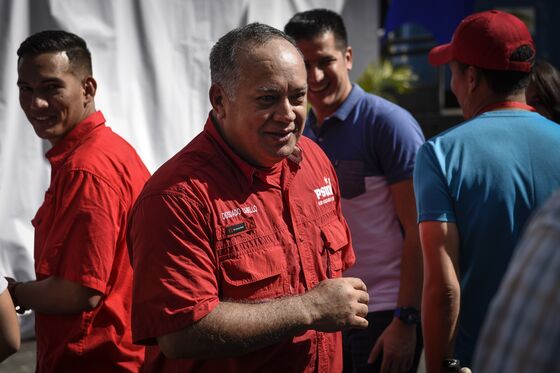 A former army lieutenant and a close confidant of the late Hugo Chavez, Cabello has held a number of top-cabinet posts including vice president, minister of public works, and head of the National Assembly.
The Constituent Assembly came into power in 2017 after months of violent protests that left at least 125 dead. It most recently approved snap elections for May in which Maduro was re-elected with 68 percent of the vote. It was also the stage where he held a symbolic swearing in ceremony before the official Jan. 10 date set in the constitution.
Cabello, his brother, wife and an alleged front man were sanctioned by the U.S. Treasury just days before May's election, accusing them of being involved in drug trafficking, money laundering, and embezzlement.