`Panic Mode' for Crop Markets as Prices Plunge on Trade Fear
(Bloomberg) -- The gloom is mounting in the grain markets amid rising anxiety about the impact of the escalating trade dispute between the U.S. and China.
Agricultural futures sank Tuesday, led by a plunge in soybeans, after China vowed to retaliate "forcefully" against President Donald Trump's threatened tariffs on another $200 billion in Chinese imports. The Asian nation said last week it will follow through on plans to levy tariffs against a slew of American farm goods, which have been a focus of the disagreement between the two countries.
"The trade is quite concerned about the next round of potential trade disruptions," Rich Nelson, chief strategist at Allendale Inc. in McHenry, Illinois, said by telephone. "At this point, traders are in more of a panic mode than reasonable discussions about looking at the exact potential changes on exports."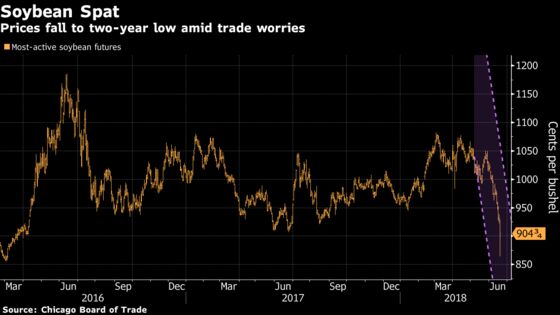 November soybean futures sank as much as 7.2 percent to $8.645 a bushel, the lowest price for a most-active contract since March 2016. Soybeans are the top U.S. agricultural export to China. Wheat and cotton futures also posted steep losses, while corn, soy meal and bean oil also declined.
The trade dispute comes in the midst of the U.S. growing season and has spurred hedge funds to back away from bullish bets on crop prices. As of June 12, money managers cut net-long holdings across corn, wheat and soybeans to the lowest since February, government data show.
Read: Brazil's soy premium surges as Chicago sinks on China trade spat.
"If the tariffs continue, it will stop our exports and start to build our supplies," Virginia McGathey, president of McGathey Commodities Corp. in Chicago, said in a telephone interview. "That's an anchor on the prices."
Adding to the bearish sentiment are current weather conditions, which continue to be favorable for U.S. crops. In weekly ratings issued on Monday, the U.S. Department of Agriculture said 78 percent of corn is in good or excellent shape. The amount of spring wheat in top condition also surged.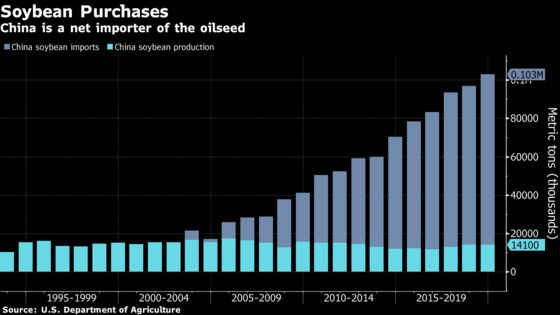 The U.S. soybean industry has lost more than $6 billion since the end of May as prices wane, according to a statement from John Heisdorffer, president of the American Soybean Association. China imported about a third of U.S. production last year, and farmers are in "the crosshairs of President Trump's contentious tariff confrontation," the group said.
"Soybean prices are declining as a direct result of this trade feud," Heisdorffer said. "We have approached the Trump administration repeatedly and implored them to hear our side of this story."