Market Correlations Like 2016 Suggest Dominoes Lining Up to Fall
(Bloomberg) -- While on-again, off-again risk aversion is the mantra for global markets in this age of trade spats, here's a sign that the latest flight to safety may endure beyond Donald Trump's next tweet.
A Morgan Stanley index that tracks correlation among regions and asset classes has reached its highest level since December 2016, a possible signal that the market's defensive positioning could prove more lasting, according to a note from Tim Emmott, executive director at Olivetree Financial Ltd.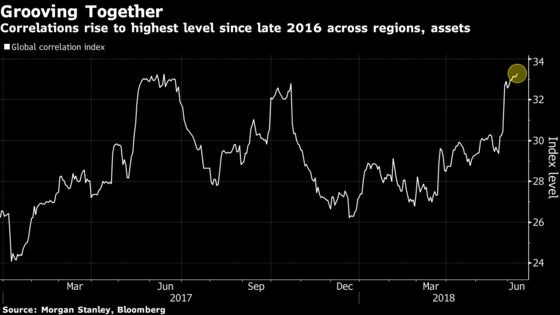 "The fact that this index is trending higher currently could well be the true signal for market players to realize that current multi-asset moves toward risk aversion may be more than short-term," according to the note.
So far this year, flights to safety have occurred in short-lived bouts spurred, for instance, by the latest twists in trade tensions, without much of a domino effect across asset classes. The VIX Index still sits at its five-year average, while Treasury and currency volatility measures are far below their norms. It's allowed investors to concentrate on asset- and company-specific drivers, keeping correlations low.
That may change as anxiety creeps back into the market. Emmott points to discussions about policy error that have emerged in the wake of the latest Federal Reserve meeting, the continued difficulty the ECB faces in raising interest rates thanks to macro and political developments and negative data out of China as rendering "the global inflation trade questionable at least."
That's spurred selloffs in emerging-market currencies and commodities that could spread to other asset classes should correlations remain elevated, he said in an interview.
It could also put an end to a stellar year for certain strategies. Macro hedge funds -- which bet on economic and political shifts -- lead all fund types in performance year-to-date, according to data from Credit Suisse Group AG. It's a feat they haven't accomplished since 2011, and they owe it to divergences between asset classes and regions, according to strategists at the Swiss bank.
"Taking the Morgan Stanley Global Correlation Index as a proxy, it would appear that the trade is breaking down," Emmott wrote. "The move in correlation here may be the canary in the coalmine for the medium-term trajectory of real systemic risk to markets."