Traders Price In Fed to Trade War as Indonesian Stocks Decline
(Bloomberg) -- While Indonesia's stocks typically get a lift on the first day of trading after celebrating the end of the holy month of daytime fasting, this time it's different.
The benchmark Jakarta Composite Index fell 1.8 percent Wednesday, as the market reopened after the holiday.
Equity traders in the country caught up with the volatility that played out earlier in other Asian markets due to deepening trade tensions between the U.S. and China. The Southeast Asian country had been shut for seven days for Eid-al-Fitr celebrations.
Those who watched the iShares MSCI Indonesia ETF would have been prepared for the selloff. It slumped 6.6 percent during the Eid holiday.
Here's what Indonesian traders were pricing in today: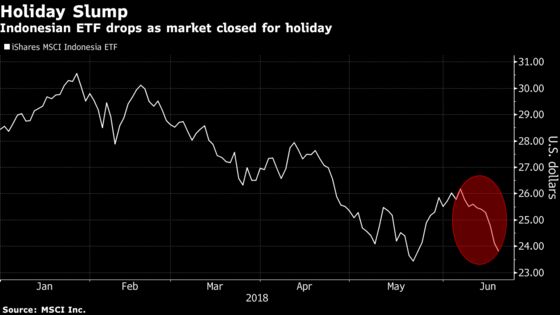 Trading in the rupiah resumes Thursday and Standard Chartered Plc expects the currency to weaken as the U.S.-China trade dispute weighs on risk appetite. "The rupiah will not remain immune in such an environment, even though Indonesia is a more domestic-oriented economy," said Divya Devesh, a Singapore-based Asia FX strategist at Standard Chartered.
The nation's currency ended down 0.4 percent at 13,930 per dollar on June 8 before onshore markets shut. Standard Chartered pegs 14,200 as the next key level.
Indonesia has been one of the hardest hit emerging markets in Asia because of its reliance on foreign inflows to finance its current-account deficit. The rupiah has recovered from its lowest since October 2015 as the central bank raised benchmark rates. It has gained more than 1 percent in the past month, the best performance in Asia.
And it isn't over yet. Governor Warjiyo said Monday the central bank is prepared to take action including raising interest rates at a review next week. Indonesian Finance Minister Sri Mulyani Indrawati said Tuesday the Fed and ECB had communicated its policy action well in advance and emerging markets need to adjust to this "new normal."
"Many emerging countries have prepared the normalization of the monetary policy in the United States," Indrawati said. Indonesia is presenting itself as a country that is "well governed," and one that has sound policy. "This is the signal that we want to present to many of the investors and bond holders," she said.
But at least there will be one positive factor for stocks, according to Morgan Stanley. Strong sales figures reported during the holiday period could help lift the shares, strategist Sean Gardiner wrote in a note on June 7.