Wall Street Forced to Recalibrate as Trade War Gets `More Real'
(Bloomberg) -- For months, investors have dismissed Donald Trump's fiery rhetoric on trade with China as negotiating bluster. That got a lot harder after the U.S. president threatened more tariffs and China promised in-kind retaliation.
Investors reacted with a decisive move to pare risk, as equities sank around the globe and bonds rallied. But how about beyond Tuesday? If the world's top two economies are headed for a trade war, how should investors position themselves? The following are some thoughts from fund managers and strategists.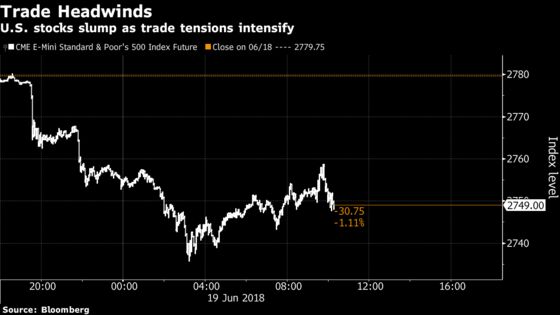 "The negotiating tactic that is playing out is becoming more recognized by the markets and we're starting to hit timetables here that are making it a much more real situation than what we were looking at about a month ago," Matthew Miskin, a market strategist at John Hancock Investments, said by phone.
The latest flareup makes fixed income the most attractive, particularly American debt, he said.
"We are finding bonds to be still a decent hedge here. While emerging-market debt is taking it on the chin because of spread widening, U.S. Treasuries, U.S. mortgage-backed securities, the higher-quality parts of the bond market are acting and functioning just as they should be. Which is refreshing."
"If we see a trade war, I'm not sure any assets are safe in the equity arena," Doug Sandler, global strategist at Riverfront Investment Group, said in an interview. "I thought originally the assets of our allies would be safer because the U.S. wouldn't want a trade war on multiple fronts. But there really hasn't been any asset class or any part of the world that Trump has left out. Emerging markets will obviously suffer the most."
Escalating trade tensions along with an already-tight labor market could inspire a pickup in inflation, several money managers warned. Stephen Lee, a founding partner at Ardmore, Pennsylvania-based Logan Capital Management, said his firm's strategy will be to search for companies that have pricing power, mentioning FleetCor Technologies Inc.
"Cash is a good thing to have," Jason Ware, co-founder and head of trading at 280 CapMarkets, said in an email. If Trump does impose the heightened tariffs and China responds, the resulting inflation would send bond yields higher, he said. "I would not recommend being lured into the Treasury pop."
Sameer Samana, global technical and equity strategist for Wells Fargo Investment Institute, warned that investors may have gotten a little complacent in recent weeks as U.S. equities headed to two-month highs.
"We pulled back a little bit on equities through REITs and put some of that money back over on the fixed-income side in U.S. dollar-denominated emerging-market debt," Samana said by phone. "The thinking was, you kind of get paid to wait and if we get a bout of volatility, which maybe this is it, you have some money to go back into the equity side with."
At the same time, he does not expect the worst case to develop. "If anything right now, we're viewing this volatility as actually a chance to add exposure to equities in line with what our recommendations are," he said.
For Paul Krugman, the Nobel Prize-winning economist and liberal commentator, the market is not taking seriously enough the threat to global growth.
"I've been amazed at the complacency of markets as Trump marches off to trade war," Paul Krugman tweeted Tuesday. "We don't know that he'll go all the way, and break up the global economy. But surely there's a substantial chance. 50%? 30%?"
Smaller, more domestically oriented companies are generally seen as a safe haven in a global trade spat since they make most of their money at home. About 43 percent of S&P 500 sales came from abroad in 2016, according to S&P Dow Jones Indices data, compared with roughly 20 percent for the small-cap Russell 2000 Index.
"If a trade war starts, you want to allocate to those investments which are the least sensitive to global trade, and that's small caps," Ash Alankar, head of global asset allocation and risk management at Janus Henderson, said on Bloomberg Television.
For many money managers, the biggest decision they face is whether to take seriously Trump's willingness to follow through with his strongest threats. Barclays said investors should steel their nerves for months of "posturing" as the two sides play a "game of chicken" -- without doing much to portfolio positioning.
"A sharp escalation is necessary to force China to swerve and give President Trump some juicy stomp box fodder," said William Hobbs, the head of investment strategy at Barclays's wealth-management unit in London. "This is an attractive buying opportunity in continental European stocks even as various geopolitical froth may help to temporarily obscure the improving fundamentals over the coming months."
Central banks remain the key driver for the possible end of the current bull market cycle, said Nader Naeimi, head of dynamic markets at AMP in Sydney.
"This is what I call a Shakespearean market, full of sound and fury, signifying nothing," he said. "Politics doesn't end cycles, it's central banks. But at some point trade skirmishes and increasing tariffs will add to U.S. and global inflation and if that happens and forces the Fed into the corner, then we will have a problem."
In the meantime, Naeimi is using the currency market for protection. He likes hedging with yen against the Australian dollar, Korean won and Canadian dollar.
"There will be a tragedy somewhere, so we can't totally dismiss the risk," he said.