Unloved British Stocks Trigger a Buy Signal for Morgan Stanley
(Bloomberg) -- Ructions in Westminster and angst over Brexit negotiations shouldn't stop investors from buying U.K. stocks that remain undervalued and out of favor, according to Morgan Stanley.
Despite the uncertain political backdrop, London-listed equities often perform well as the global business cycle ages, and should benefit from higher commodity prices, strategists including Andrew Sheets wrote in a note to clients Friday. Furthermore, British companies are also seeing an increase in buybacks and merger-and-acquisition activity, boding well, according to their analysis.
The strategists see a potential upside of 10 percent, currency-hedged, over the next 12 months, according to the note. The analysts swapped a call for going long European stocks for the FTSE 100, "given cheaper valuations and a more attractive strategy view."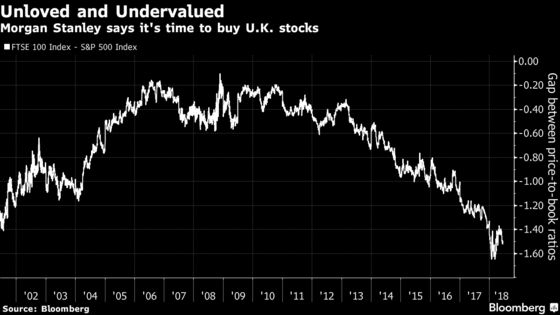 The bank's bullish trade recommendation on the FTSE 100 Index comes ahead of a week that sees U.K. Prime Minister Theresa May face knife-edge votes in both houses of parliament.
Overseas investors should still hedge their foreign-currency exposure, according to Morgan Stanley. The longer-term uncertainty surrounding Brexit continues to weigh on the valuation multiples that investors are willing to pay, despite a weaker pound having boosted earnings prospects for many companies.
For U.S. investors, this would mean the effective dividend yield of U.K. stocks with a hedged currency position could be as much as 5.8 percent, according to the strategists.