Top Philippine Stock Fund Holds On to Cash as Bear Market Nears
(Bloomberg) -- The best stock fund in the Philippines is holding on to its cash as a sell-off that's wiped out more than $36 billion from Asia's worst-performing equity market brings the benchmark closer to bear territory.
The Philippine Stock Exchange Index sank 1.5 percent on Monday as a forecast for a wider current-account gap stoked fears of a weaker currency and rising inflation, bringing this year's retreat to more than 13 percent. The gauge is within 2.3 percent of a bear market as it nears the 7,246.90 level, which is 20 percent below its Jan. 29 peak. Meanwhile, the peso is hovering around a 12-year low.
"There is no rush to buy into this market," said Steven Ko, who helps manage about $1.12 billion at Rizal Commercial Banking Corp. "Sentiments have become very negative that it's highly possible we will see a bear market in the near term."
The bank's Rizal Equity Fund has returned 2.2 percent in the past year, the best performer among 69 peso-denominated Philippine stocks funds in Manila tracked by Bloomberg. It beat the Philippine Stock Exchange Index, which slid 6.7 percent in the past 12 months.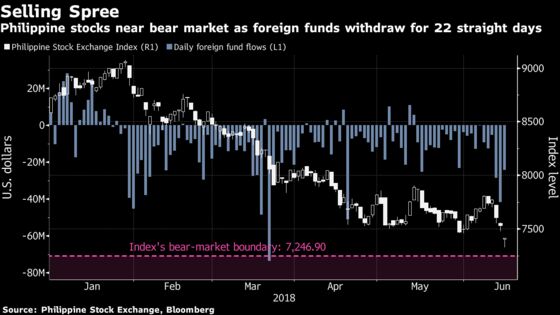 Ko said the Philippine stock index could slide to 7,200 as early as this month even if the central bank raises interest rates on Wednesday as the market braces for continued weakness in the peso amid the prospects of a swelling current-account deficit.
The central bank on June 14 raised its current-account gap forecast to $3.1 billion for 2018, more than four times its previous $700 million estimate. The peso has depreciated 6.7 percent against the dollar this year, Asia's worst performer.
"The new forecast shows a very big discrepancy and the market is taking this negatively because of its implication on the peso," Ko said. "Even if the central bank raises interest rates this week, the peso might not get support in the near term and this spells continued weakness for equities."
Overseas investors sold $24.17 million of Philippine shares Monday, the 22nd straight day of withdrawals. It's the longest stretch of outflows since Sept. 2016 and bringing this year's withdrawals to more than $1.11 billion. Yesterday's sell-off trimmed the stock index's valuation to 16 times 12-month estimated earnings, the lowest since Dec. 27, 2016.
Ko said he has identified stocks that are "very undervalued and have underperformed the market" and that he's ready to scoop them up once the Philippine stock index hits 7,200. He prefers property companies -- the only sector he's overweight -- even as interest rates rise, because of earnings growth prospects. He also likes consumer stocks as the sector's underperformance this year have made certain names "quite attractive."
"The weakness and sell-off in equities are mostly currency-related," Ko said. While Philippine economic growth is still one of the fastest in the region, "most foreign investors are bearish" because they are also being hit by the weaker peso.