Sanctions Prompt Russian Firms to Ditch London for Moscow
(Bloomberg) -- Russian companies spooked by the experience of a sanctioned company earlier this quarter are ditching stock listings in London and New York in favor of Moscow's revamped bourse.
Meat producer Cherkizovo Group PJSC is mulling a Moscow share sale after it delisted from London last year, while the deputy chief executive officer of steel pipes producer TMK PJSC said he may consider a similar move in the future. The Moscow Exchange now handles 60 percent of the trading volume of dual-listed stocks compared with 44 percent in 2014.
The trend, which was originally spurred by local trading reforms, got fresh impetus this year after billionaire Oleg Deripaska's En+ Group Plc was sanctioned just five months after a $1.5 billion listing in London and Moscow. Investors still holding the depository receipts are now trying to convert them into local shares where there is more liquidity, but the process is expensive and lengthy.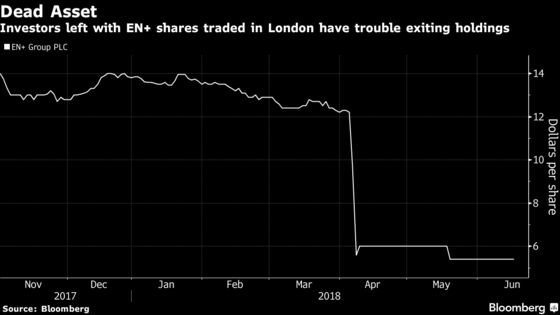 "It really doesn't make sense for Russian companies to list abroad in the current environment," said Ekaterina Iliouchenko, a money manager at Union Investment Privatfonds GmbH in Frankfurt. Fresh sanctions could lead to a foreign exchange blocking transactions, while "liquidity will drop dramatically as foreigners exit," she said.
Anna Vasilenko, the Moscow Exchange's managing director of client and corporate relations, says that before the bourse reformed its infrastructure in 2014, allowing foreigners to trade local shares more cheaply and easily, investment bankers would recommend companies to list abroad. Now those same firms are scheduling meetings to join the bourse.
Vladimir Zaluzhsky, the head of the communications and investor relations at steelmaker Severstal PJSC says he is encouraging investors to buy local shares, but the company has no plans to delist from London.
The Moscow Exchange has improved its operations, the central bank is more transparent and predictable, and the risks of capital controls have fallen, according to Pavel Laberko, a London-based money manager at Union Bancaire Privee. London-listed notes were popular when investors had less trust in the ruble, he added.
"It doesn't really make much sense to trade via GDRs," he said.