Aluminum Price `Irregularities' Draw Lawmakers' Call for Probe
(Bloomberg) -- The aluminum industry, roiled by tariffs and Russian sanctions, now faces accusations of price manipulation in the U.S.
A group of U.S. lawmakers asked Attorney General Jeff Sessions to examine what they call possible "anti-competitive conduct" in the U.S. aluminum market that they say may have inflated prices of the metal. Republican Representative Ken Buck of Colorado led 32 Republicans and Democrats in signing a letter to the Department of Justice.
The lawmakers are concerned with what they call "pricing irregularities" in setting the U.S. Midwest premium, or the amount added to have metal shipped to the Midwest. The premium has jumped this year as U.S. aluminum tariffs added to supply concerns, spurring complaints from metal buyers. The lawmakers said end users have questioned whether the premium is being set "in cooperation with select aluminum, merchants, producers, traders and banks."
"I'm trying to get the antitrust division to look into the situation where we have one organization setting the price, a limited number of suppliers that have a great interest in a higher price, and then a disbursed group of consumers," Buck said in a telephone interview. "That situation by itself is concerning. I think even before the threat of tariffs, we had a situation where prices had gone up and were stabilizing at a higher level."
The legislators said in the letter that "the Midwest transactional premium is set by S&P Global Platts," and they "are concerned that S&P Global Platts' pricing methodologies used to set the price of the MWTP for the entire U.S. market may be flawed and not consistently followed."
S&P Global Platts said in response to an email from Bloomberg News that the Midwest Premium is simply an assessed price reflective of the market value of aluminum in the U.S., as determined by buyers and sellers in the physical market.
"The differential reflects the regional cost of logistics, such as trucking freight and handling charges, as provided to Platts price assessors by a wide range of market participants," S&P Global Platts said. "Crucially, it also reflects regionally specific supply and demand conditions in the U.S."
The firm said it has no vested interest in whether commodity prices rise or fall.
Bloomberg competes with S&P Global Platts in providing market information.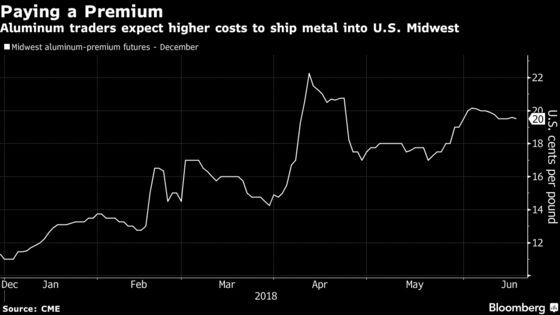 Last month, the Beer Institute, a Washington-based industry group, called for an investigation into the premium.
Depending on how much the tariffs push up U.S. premiums on the metal, MillerCoors estimates a more than $40 million hit to its bottom line. To soften the blow, the maker of Miller Lite and Coors Light said it may have to cut back on investments, new hires, or other costs and expenses -- or raise prices.
Aluminum for three-month delivery, a global benchmark, is down 2.1 percent this year at $2,219.50 a metric ton on the London Metal Exchange.