Topix Slides After Quake Rattles Osaka and Trade Tension Lingers
(Bloomberg) -- Japanese stocks slid as the yen rose after a strong earthquake struck Osaka and woes lingered over a trade spat between the U.S. and China.
Electronics makers and machinery companies weighed most heavily on the benchmark Topix gauge. Several companies including Kubota Corp. reported a temporary operations halt at their Osaka facilities after the temblor with a 6.1 magnitude hit the city at 7:58 a.m. local time. JXTG Holdings, which said it stopped its Osaka refinery, fell more than 4 percent. Sumitomo Osaka Cement Co. rose more than 3 percent.
Stocks like JXTG are "being sold at the moment as the level of damage is unclear," said Yutaka Takahashi, a Tokyo-based market analyst at Kyokuto Securities Inc. For the gainers, "we don't know the extent of the damages caused from the Osaka quake but the need to strengthen resilience to earthquakes may be on the rise," he noted.
Oil explorers also fell following a dip in global crude prices. U.S. President Donald Trump said on Friday new tariffs on Chinese imports would take effect from July 6. In response, China said it would charge tariffs of the "same scale and intensity" on goods from the U.S.
"It looks like the implementation of tariffs on both China and the U.S. is unavoidable," said Shoji Hirakawa, chief global strategist at Tokai Tokyo Research Institute Co.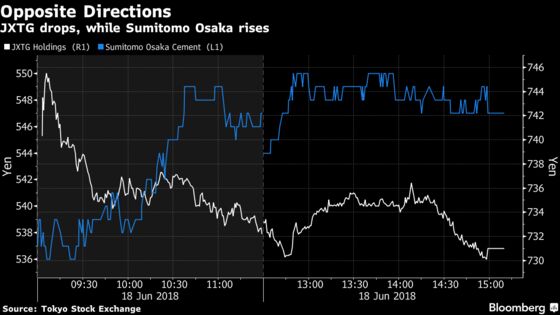 Topix index -1% to 1,771.43 at the close in Tokyo after falling by as much as 1.3%
Nikkei 225 -0.8% to 22,680.33
Yen +0.2% at 110.50 versus dollar
Electronics makers: Sony -1.6%, Hitachi -3.1%
Machinery companies: Komatsu -3.9%

Kubota -4.1% after it suspends operations at 2 facilities on quake

Oil explorers: Inpex -2.1%, Japan Petroleum Exploration -3.6%
Sumitomo Osaka Cement +3.2%, top performer on Nikkei 225