ICICI Board Is Said to Meet to Decide CEO's Fate Amid Probe
(Bloomberg) -- The board of ICICI Bank Ltd. is meeting Monday to decide on the future of Chief Executive Officer Chanda Kochhar, said people familiar with the matter.
They'll debate options including asking Kochhar to go on leave until an internal investigation into allegations raised against her by a whistle blower is completed, the people said. Replacements being considered include Sandeep Bakhshi, CEO of ICICI Prudential Life Insurance Co., who may be made interim head for the bank, the people said, asking not to be identified as the information is private.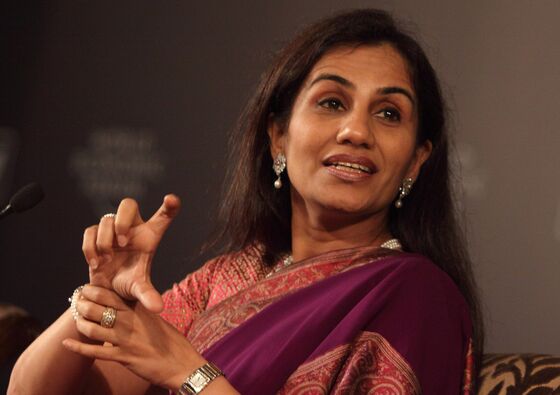 An ICICI Bank representative didn't immediately reply to an email and phone call Monday.
The Mumbai-based lender's board decided last month to set up a panel to examine the anonymous complaint that alleges quid pro quo in the course of Kochhar's work in dealing with certain borrowers of the bank. The complaint also alleges the CEO violated regulatory provisions related to conflicts of interest over a period of time, according to the filing.
Read: ICICI Bank to Probe Fresh Allegations Against CEO Kochhar
ICICI Bank has appointed B N Srikrishna, a retired judge from India's top court, to investigate these allegations and the probe is expected to start this week, according to the people. This investigation comes as federal authorities separately conduct a so-called preliminary inquiry into an alleged nexus between a local conglomerate and Kochhar's husband.
Shares of India's second-largest private-sector bank gained 3.9 percent as of 12:34 p.m. in Mumbai on Monday. ICICI is the worst performer among private-sector lenders on a 10-member gauge since May 2009, when Kochhar took over as CEO. Its bad-loan ratio is one of the highest among its peers.