ETFs Say Pain Is Not Over for Emerging Markets as Investors Bail
(Bloomberg) -- Investors are yanking funds from emerging-market exchange-traded funds as rising interest rates in the U.S. weaken emerging-market assets.
The $35 billion iShares MSCI Emerging Markets ETF, or EEM, had $2.2 billion of outflows last week, the most since January 2014. Meanwhile, the biggest emerging-markets ETF, the $65 billion Vanguard FTSE Emerging Markets ETF, or VWO, lost about $270 million last week for its second-worst performance in over two years.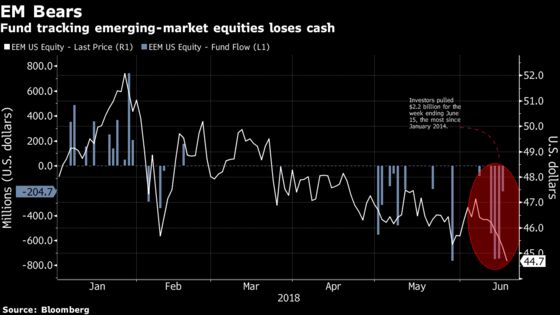 "We recently went from overweight to market weight in VWO, so not mega bearish but not as bullish," said Andy Wester, senior investment analyst at Proficio Capital Partners. "And that was only because we wanted direct exposure to commodities rather than proxy exposure through emerging markets."
More broadly, while many investors say the outlook for a rebound in synchronized global growth remains, domestic crises in some emerging markets, like Argentina and Turkey, have put stress on the group.
Emerging-market bonds are suffering as the developing countries begin to undo years of monetary stimulus that sent international investors in search of higher yields. Some bearish technical indicators for the iShares J.P. Morgan USD Emerging Markets Bond ETF, or EMB, indicate that developing-market debt still has some downside, according to research by Bloomberg Intelligence analyst Damian Sassower.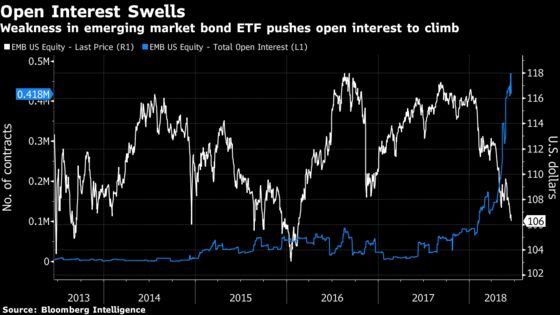 A sharp rise in open interest for EMB, is one signal showing greater volatility ahead for emerging-market creditors. The fund has seen open interest rise 524 percent this year to an all-time high of 469,313 contracts, the research shows. When EM sentiment shifts, open interest will decline.
"The options market makers, the people who have the ability to underwrite options, they foresee volatility remaining elevated so that they can continue to make money on that," Sassower said. "Otherwise, they wouldn't write you an option and wouldn't take the other side of that trade."