Sliding Emerging Markets Bear Brunt of Angst Over Trade, OPEC
(Bloomberg) -- Emerging markets were getting little relief as the escalating trade war between the U.S. and China hurt most major currencies and sent stocks to their lowest level since December.
An index of currencies was set for a fifth day of losses on Monday, led by the South Korean won and Russia's ruble, leaving it on track for the biggest quarterly decline since September 2015. Yield spreads on emerging-market sovereign bonds widened four basis points relative to U.S. Treasuries, a JPMorgan Chase & Co. index showed.
Equities extended their worst weekly performance in a month, with the MSCI index of emerging-market stocks retreating for a fourth day. Outflows from U.S.-listed emerging market exchange-traded funds totaled $2.7 billion in the week ended June 15, according to data compiled by Bloomberg. It was the biggest weekly outflow in over a year.
With OPEC clashing over output, Turkish elections looming and the likelihood of fallout from Argentina's foreign-exchange crisis continuing, the prospect of a protracted trade war between the world's two biggest economies merely served to cast a longer pall over emerging markets. After the U.S. announced tariffs on $50 billion of Chinese imports last week, the Asian nation struck back with its own plan for levies on American exports. Chinese markets were closed Monday for a holiday.
Trade wars "have the potential to disrupt an otherwise positive economic outlook, if they were to trigger broad-based retaliatory actions," said Silvia Dall'Angelo, a London-based senior economist at Hermes Investment Management. "The uncertainty concerning trade policies has the potential to negatively affect confidence, in turn holding back investment decisions."
What you Need to Know About Emerging Markets This Week: Audio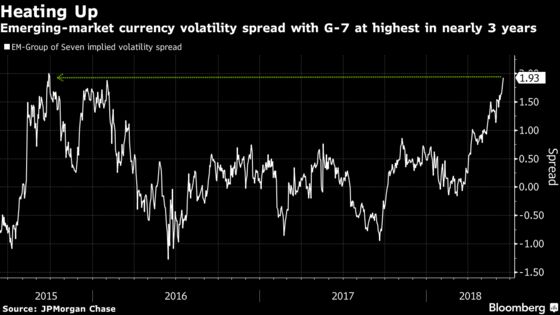 Here's a roundup of the events on traders' radar as the week begins:
On Wednesday, MSCI Inc. could stamp its approval on Saudi Arabia and Argentina as members of its emerging-market index. The former is more likely.
Finance ministers and central bank presidents from Brazil, Argentina, Uruguay and Paraguay will convene Sunday at the Mercosur summit. The meeting concludes Monday with a sit-down among heads of state. The bloc will discuss strategies for trade talks with the EU.
Colombian markets open after the country on Sunday elected Ivan Duque, a market-friendly U.S.-educated lawyer, by a large margin over Gustavo Petro, a former leftist guerrilla and mayor. It was the first presidential election since the signing of a historic peace accord with Marxist rebels.
Meanwhile, Frans Timmermans, principal vice president of the European Commission, will kick off the week by visiting Poland amid concern about court independence. The zloty has fallen about 8 percent this quarter.
Traders will monitor monetary policy decisions from the central banks of Thailand, Taiwan, Brazil, Hungary and the Philippines this week. Bangko Sentral ng Pilipinas is set to decide on Wednesday whether to proceed with a second increase in the benchmark interest rate after inflation reached a five-year high after last month's move. The Philippine peso is the worst-performing Asian currency this year, with losses of more than 6 percent against the dollar.
Trading will resume in Indonesia on Wednesday after a seven-day holiday. Investors will be processing a slew of events, from the Fed's much-anticipated rate hike to dovish guidance from the ECB. The rupiah is the best performer in the region this quarter after the nation's central bank hiked its policy rate twice in two weeks to stabilize markets.
Brazil's central bank may keep borrowing costs unchanged at 6.5 percent for a second straight meeting on Wednesday after a 10-day nationwide truckers' strike choked the economy and sent the nation's stock index to a nine-month low.
Mexico's central bank will probably keep its key rate unchanged at 7.5 percent on Thursday as economists see inflation slowing this year to within the bank's target range.
The central bank will start auctioning dollars at the close of trading at 3pm on Monday, Infobae reported, on new central bank chief Luis Caputo's first full day in the role.
In South Africa, traders will look to data released Wednesday on the consumer price index for May and the first-quarter current-account balance for clues on the policy path of the South African Reserve Bank.
The next key test for traders in Hungary will be a rate meeting on Tuesday, where policy makers will renew their economic forecasts and give updated policy guidance. Currency markets are eager for them to strike a more cautious note, according to TD Securities' Cristian Maggio, after the forint fell to a 13-month low.
Poland will release May macro data, including wages, employment or output, followed by central bank minutes and money supply.