Buyout Leveraged Loans See Revival Ahead of `Gangbuster' Summer
(Bloomberg) -- Sales of U.S. leveraged loans backing M&A are expected to accelerate over the next few months as private equity steps up the pace of buyouts. Investors welcome this with open arms.
It's going to be a "gangbuster" summer, said Brendan Dillon, global co-head of leveraged finance and capital markets at UBS. "Our pipeline continues to be very robust. Our peers are also very busy."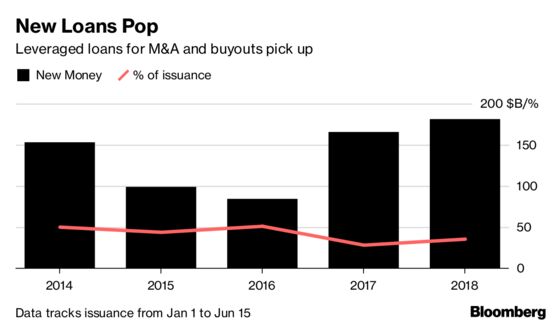 About $182 billion, or 35 percent, of all U.S. institutional loans launches so far in 2018, represent new supply, which will finance takeovers, buyouts or dividends, according to data compiled by Bloomberg. At the same time last year about $166 billion of loans, or about 28 percent, were earmarked as new deals.
Private-equity firms are driving the increase in deals. The recent tax reform and improvement in corporate earnings have lowered valuations, prompting buyout shops to loosen the spigots on their substantial dry powder and to employ the leveraged loan market for financing.
"The recent equity market volatility, coupled with rising rates has motivated potential sellers thus creating buying opportunities for the PE community which is sitting on an enormous amount of capital," said Douglas Antonacci, head of par and distressed loan sales in the global credit and special situations department, at Bank of America Corp.
Among the anticipated LBO loan deals is Envision Healthcare Corp., which wants to raise about $5 billion of first-lien debt and $2 billion in junior debt. Thomson Reuters' financial and risk division is borrowing about $5.5 billion in U.S. term loans. BMC launched a $3.375 billion term loan for its buyout. And a host of smaller deals are being readied to tap loan investors.
Underwriters are looking forward to the richer fees that come from providing committed financing. And loan buyers are keen, especially CLOs, which are being formed at a furious pace.
"New supply has been healthy for the market, especially given the robust CLO issuance over the past 12 to 18-month time period," said Wayne Hosang, portfolio manager at Crescent Capital.
As a result, borrowers who have gotten used to repeatedly coming back to market to slash loan margins may be left out in the cold this summer. New supply tends to put the chill on repricings.
"This is something that investors are really pleased about," said Steven Oh, global head of credit and fixed income at PineBridge Investments, regarding the uptick in new money supply. "It will balance the market technicals. Importantly, the new supply should lessen pressures on repricings."
If all the supply comes to market at the same time, there could even be a bit of market indigestion. Most of the buyout financings are poised to clear given strong demand from CLOs and mutual funds -- but some may have to pay a bit more.
U.S. leveraged loan prices have been relatively resilient through most of 2018 -- even in the face of volatility in high-yield bonds and equities -- but there was some weakening in May when a batch of new money loans came to market. A flurry of new money issuance in July or August may cause the market to widen.
"As investors reduce their position to make room for more attractive primary issuance, that could cause secondary prices of loans that are trading above par to drop closer to par," said Oh.
The summer should be hot, but autumn may not bring a shift.
"There is no reason to think this won't continue into the third quarter," said Dillon of UBS.