Buyers Striking Back Against Excesses in European Junk Bonds
(Bloomberg) -- Jeff Mueller has little time for many of the junk bonds investment banks are pitching to him these days.
The Eaton Vance portfolio manager is so unimpressed by what he sees, he now turns away most of the new issues he's offered. That's a reality check for borrowers who have used a six-year bull run in Europe's $400 billion high-yield bond market to slash pricing and water down investor protections known as covenants. Since March, seven companies have withdrawn new deals after investors balked at the pricing and terms they asked for.
"Our participation rate has been pretty low," Mueller said in an interview in London. "We'd like to see better covenants overall and that's why we've stayed out of so many deals."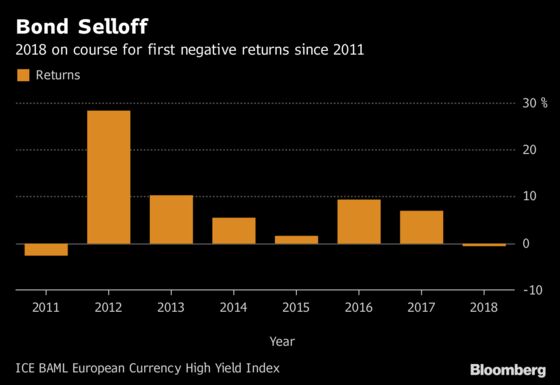 The $434 billion fund firm experienced the boom-and-bust between 2007 and 2009. Today its managers are more inclined to walk away from a primary market that's rekindling memories of a pre-financial crisis heyday. Goldman Sachs Group Inc. warned last month that prices on the riskiest bonds aren't reflecting default probabilities.
Even though companies are in better shape after a decade of easy-money policies, they are carrying bigger debt loads globally, according to S&P Global Ratings. There are also fewer checks and balances in the form of covenants restricting future borrowing or cash payments out of the company.
Investors are voting with their feet. They pulled about $7.3 billion from euro-denominated risky-debt funds this year, according to EPFR Global data, and the pace of redemptions accelerated at the start of June.
"With high-yield tourists leaving the asset class, it seems to have turned recently into a buyer's market," said Thomas Korhammer, a fund manager at Raiffeisen Capital Management, which manages 32.9 billion euros ($38 billion). "The hunt for yield has faded."
Danish telecoms operator TDC A/S started taking orders on a sale of euro-denominated bonds last week, offering a yield of around 7 percent, according to people familiar with the matter who asked not to be named because they aren't authorized to speak publicly. That's more than double the 3.2 percent average yield on the ICE Bank of America Merrill Lynch Euro High Yield index. A TDC spokesman didn't immediately respond to a request for comment.
Battery maker Energizer Holdings is testing the market on Monday and offering as much as 5 percent on a $750 million sale of euro notes, people familiar with the matter said, asking not to be named because they aren't authorized to talk about it. The company did not respond immediately to a request for comment.
Many of the deals that make it to the finish line have had to sweeten terms first. Borrowers including Nexi Spa, U.K. watchmaker Aurum Holdings Ltd., and Stark Group all had to make changes to documentation that bolstered investor protections. An external spokesman for Nexi declined to comment. Aurum's private equity sponsor Apollo Global Management and Stark Group didn't respond to requests for comment.
London-listed Vivo Energy Plc, which operates gas stations in Africa, last week became the latest company to shelve a planned junk bond sale, blaming "adverse market conditions." Altogether about 4 billion euros of deals, from borrowers including NBG Pangaea Real Estate Investment Co., a Greek property firm, and Salt Mobile SA have been postponed. None of the companies responded to requests for comment.
Dometic Group AB, a Swedish maker of electrical appliances for yachts and camper vans, walked away from its deal after investors demanded yields that compared unfavorably with its existing bank financing, people familiar with the matter said. The company is now considering a smaller deal with a yield of around 3 percent, the people said, asking not to be named because it isn't public. Officials at Dometic declined to comment.
"Any decent issuer has kept extending its maturities and is not faced with a maturity wall anytime soon," said Pierre Verle, head of credit at Carmignac Gestion SA, which manages 55 billion euros. "Very few primary deals have to print at any price."
But borrowers holding back deals until the market turns back in their favor may find they are in for a long wait.
The euro-area's growth trajectory is faltering with industrial production data dropping 0.9 percent in April, the latest flop in a flurry of underwhelming economic news. The Citigroup Surprise Index -- which measures data relative to expectations -- has tumbled to the lowest since 2011. Meanwhile, the European Central Bank wants to wind down its asset buying program that's propelled the corporate bond market upwards for the last two years.
Borrowing costs for junk-rated companies have almost doubled since November to 3.2 percent, according to the ICE Bank of America Merrill Lynch Euro High Yield index. That's still low compared to the decade up to 2016, when the ECB started buying corporate bonds to buoy euro-area growth.
The ECB last week, while pledging to end bond buying by the end of this year, also said it expects to keep rates low until at least next summer, prompting bonds to rally.
And the chances of a pickup in companies defaulting on their debt are slim, according to Moody's Investors Service Inc. The global high-yield default rate will drop to 1.7 percent by the end of this year compared with 2.9 percent in late 2017 and a long-term average of 4.2 percent, the ratings firm said in February.
Eaton Vance's Mueller agrees that the market isn't about to be rocked by a wave of corporate defaults but is treating high-yield with caution nonetheless.
"The buyside community has a responsibility to the end investor," Mueller said. "As well as managing on the upside, you need to manage the downside."