AvalonBay Is Said to Offer 50% Stake in Manhattan Apartments
(Bloomberg) -- Apartment landlord AvalonBay Communities Inc. is marketing a stake in roughly $1.2 billion of its Manhattan real estate, according to people with knowledge of the offering.
AvalonBay is seeking a buyer for a 50 percent interest in a group of seven properties, including buildings in the Chelsea and Morningside Heights neighborhoods, said the people, who asked not to be identified because the matter is private. A representative for Arlington, Virginia-based AvalonBay declined to comment.
Values of U.S. apartment buildings surged to records in recent years as many Americans turned to renting following the recession and younger people put off buying homes. Growth has started to level off after prices climbed to 42 percent above the previous peak, in 2007, according to real estate research firm Green Street Advisors LLC.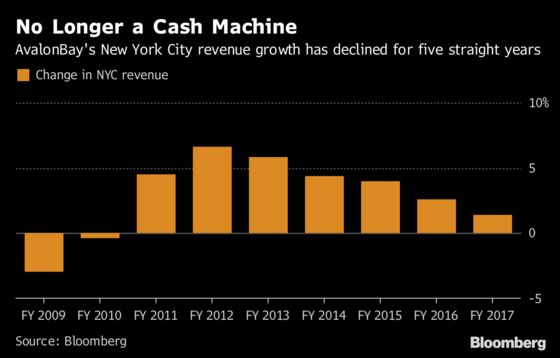 Apartment landlords in Manhattan are contending with a flood of new supply that has limited their ability to raise rents. They're cutting asking prices and granting tenants more breaks such as rent-free months as they struggle to keep their buildings full.
Bloomberg Intelligence: AvalonBay Tapping Investor Interest in NYC Assets
AvalonBay shares fell 0.7 percent Monday, closing at $167.58. They have fallen 6.1 percent this year.
The company, one of the biggest publicly traded U.S. apartment landlords, said the New York market was one of its weakest performers in the first quarter. Supply in the area "is expected to peak late this year and then fall off considerably in 2019," Chief Operating Officer Sean Breslin said on the company's earnings call in April.