Argentine Stocks, Peso Drop as Risks Remain Amid Cabinet Shuffle
(Bloomberg) -- Argentine stocks bore the brunt of the pain after a flurry of top government changes over the weekend deepened uncertainty for key sectors. The peso erased early gains.
Argentina's Merval benchmark gauge tumbled the most since 2015, falling as much as 7.6 percent intraday. Energy and Production ministers were replaced in a surprise announcement late Saturday, casting a pall of unpredictability over companies in those industries. The appointment of Luis Caputo to helm the central bank also led to policies seen by some analysts as negative for banks.
Argentine markets can't seem to catch a break as President Mauricio Macri seeks to lift investor confidence through a cabinet shakeup aimed at relaunching the economy following a historic $50 billion deal with the International Monetary Fund. The nation's assets failed to recover from a rout Friday after Macri named Caputo, formerly the finance minister, to his new post.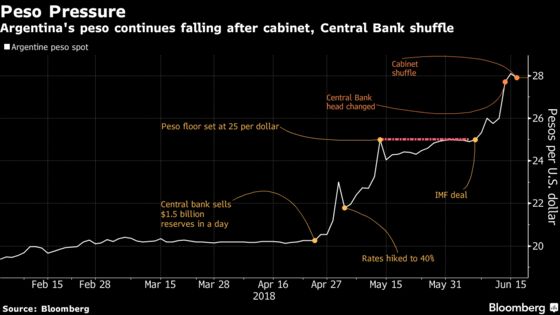 The central bank announced a slew of measures on Monday aimed to boost the foreign exchange market, including raising reserve requirements for banks and allowing them to meet their new requirements by buying peso bonds to be sold later Monday. Letting the banks hold riskier instruments adds hazards to the financial industry and is hurting bank stocks, according to local brokerage Max Valores.
"Caputo today is looking to balance the exchange market, boosting dollar offers and sapping potential peso demand. The question is whether these policies will be sustainable over time," said Ezequiel Zambaglione, head of research at Max Valores. "As far as the bank measures, they will choose to hold an instrument that pays them better returns, but at the end of the day, they're a riskier instrument. That's why the market is hurting banks today."
The removal of energy minister Juan Jose Aranguren also created uncertainty on the future of tariff adjustments, energy contracts and the liberalization of the oil market, according to Puente analysts.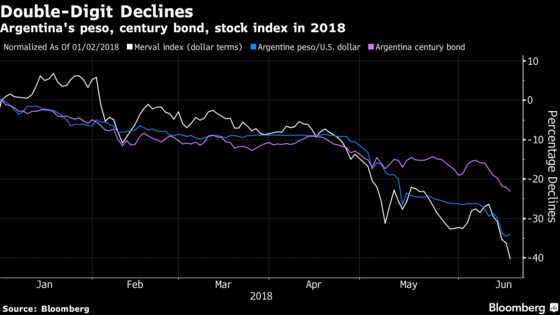 The peso opened stronger after reaching a fresh record Friday, but erased gains by 12:35 p.m. in Buenos Aires. The central bank will today begin direct sales of foreign currency through an auction to be held 15 minutes after the market's close. The Finance Ministry will also sell fixed-rate peso bonds and dual-currency bonds later this evening, a measure that added to the daily auction may help curb the foreign exchange outflow from the country, according to TPCG analyst Diego Portela.
Follow our TOPLive blog on the MSCI's market classification review here.
The drop in the stock market was compounded by a report from local newspaper Clarin that index provider MSCI Inc. is set to maintain stocks in the frontier gauge in a decision to be published this week. The MSCI press office said it won't comment on speculation and that a decision will be released June 20 as planned. While stock pickers had been harboring hopes for promotion to emerging market status, analysts at Santander said in a note Monday that the decision is losing relevance as in the face of a lackluster macro outlook ahead.