Telia Seeks Solution for Denmark as Asian Chapter Draws to Close
(Bloomberg) -- Now that investors have stopped badgering Telia AB Chief Executive Officer Johan Dennelind about how his plan to exit Central Asian markets is progressing, he's turning to an eyesore closer to home: Denmark.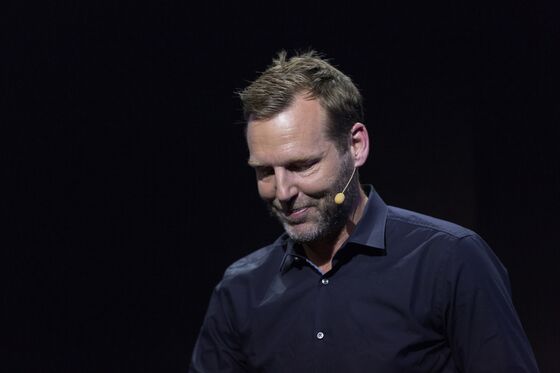 The phone company executive's patience with the Danish unit, where Telia's fixed-line business is small and the wireless arm is "subscale," is dwindling, Dennelind said in an interview in Stockholm. He's reviewing options in the country and wants to announce a solution -- which could mean a sale of the unit -- before the end of the year.
"We shouldn't be afraid of leaving a country where we can't make money," Dennelind said. "We don't see a path to a company there that meets our financial criteria standalone."
When Dennelind took over as CEO in 2013, Telia had a complex structure of holdings in Central Asia, some of which were dogged by corruption concerns. After a number of divestments and a near $1 billion fine to U.S. and international authorities to settle a graft probe in Uzbekistan, what remains of that business has faded in importance. Dennelind, 48, has turned to building fiber in Sweden, integrating Norwegian carrier Phonero, and scouting the Nordic market for media assets. Denmark remains key on his agenda.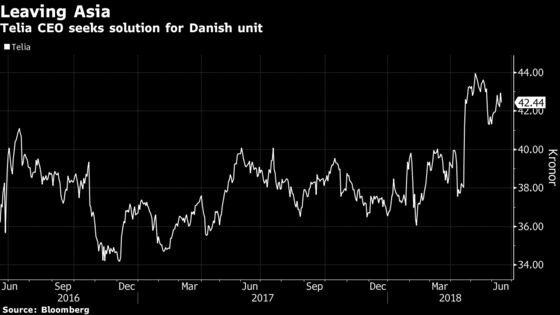 In the country of 5.7 million people, four wireless carriers compete in a market plagued by price wars that have crimped profitability. TDC A/S is the largest carrier, Norwegian state-controlled Telenor ASA is second-biggest and CK Hutchison Holdings Ltd. is fourth, after Telia.
Telia and Telenor tried to merge their Danish units in late 2014, but ran into opposition from European Union regulators, who said a combination could lead to higher prices. Telia's chances of buying all of TDC also faded this year when the former Danish monopoly agreed to be acquired by a group led by local pension funds.
Dennelind still doesn't have a solution for the unit, which could be valued at more than 4 billion kronor ($460 million) based on a trailing multiple of about six times earnings before interest, taxes, depreciation and amortization -- using the average for the European telecom sector. Selling to a new entrant to the market would probably push the price lower, while an in-market consolidation deal would mean higher payment, according to Bloomberg Intelligence analyst Matthew Bloxham.
Dennelind said he's now closely watching European regulators' response to other proposed deals, such as Deutsche Telekom AG's majority buy out of Tele2 AB in the Netherlands, to see if there has been any shift in how regulators view market consolidation concerns. The European Commission last week said it started an in-depth probe of the deal, and Tele2 said it expects a decision by the fourth quarter of this year.
Telia's plans to exit Central Asia are now more of a routine checkup item at investor meetings. But in Dennelind's first few years as CEO, shareholders almost exclusively wanted to know about how the divestments were moving along. That frustrated him, because the company couldn't fully control the process. There are three countries left; Kazakhstan, Uzbekistan and Moldova, and some of those are complicated to exit, he said.
"We could have left already," Dennelind said. "If that were our only ambition we could have just left the keys. But we don't feel that would have been the best solution for our owners. We're trying to find a balance between timing, risk and price in each country."
Telia, whose largest shareholder is the Swedish government with 37 percent, has returned 14 percent over the past year, while the Stoxx 600 Telecommunications Index has lost 7.8 percent.
The CEO is eager to add media and content businesses to Telia's broadband, cable and mobile offerings. The company recently confirmed that it's in talks to buy Bonnier Broadcasting, which operates TV channels and video streaming services including Sweden's TV4, MTV in Finland and C More.
"It's not sustainable long term to just be a distributor in a market that is changing so rapidly from the way old TV has been viewed to all-screen content," Dennelind said. "We have confirmed talks with Bonnier, but that doesn't mean that's the only thing we have in front of us."