A $6 Billion Railway Helps Builders Become Thailand's Top Stocks
(Bloomberg) -- A revival in optimism about Thai infrastructure projects has helped shares of the nation's contractors rebound from a record slide.
A measure of construction and engineering companies has surged about 7 percent so far this quarter, making it the biggest gainer among the Stock Exchange of Thailand's 28 industry sub-gauges. That marks a turnaround from the group's worst ever slide of 18 percent in the previous quarter. The shares are a rare bright spot in Thai equities, with the benchmark SET Index down 4 percent since March.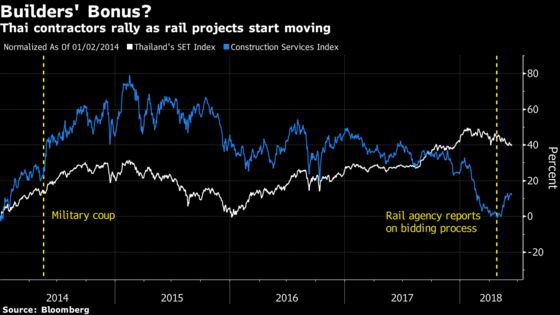 Prime Minister Prayuth Chan-Ocha, who seized power in a 2014 military coup, is trying to speed up infrastructure projects ahead of a general election expected in February. The government on Monday will unveil terms of reference for a 200 billion baht ($6 billion) high-speed train project linking three international airports closest to Bangkok.
"There's significant optimism as the government will push to speed up projects now that an election is closer," said Win Phromphaet, Bangkok-based chief investment officer at CIMB-Principal Asset Management Co. "Large infrastructure projects have been a big disappointment mainly because state bureaucracy has slowed new bidding."
An 11 percent rally this quarter in shares of Ch. Karnchang Pcl puts Thailand's biggest contractor by market value on track to halt three quarterly losses. Sino-Thai Engineering & Construction Pcl has gained 17 percent, while Italian-Thai Development Pcl is set to snap 2-1/2 years of quarterly losses. Nawarat Patanakarn Pcl has surged 23 percent.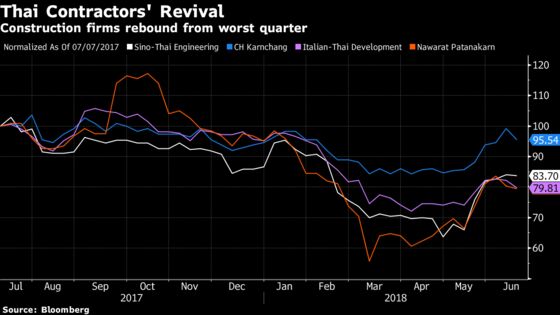 "With so many projects marked for bidding in the second half, the short- to medium-term outlook for contractors' order books is strong," said Maria Lapiz, head of research at Maybank Kim Eng Securities (Thailand) Pcl. "They should have enough work to last for another two years."
Government projects will continue to be the main source of new construction contracts as private investments are still recovering at a "very slow pace," Visut Suwanwitwaj, senior vice president of Nawarat Patanakarn, told investors at a May 11 meeting.