Trump Throws a Wrench Into Qualcomm's NXP Deal
(Bloomberg Opinion) -- For a brief moment in the depths of the European night, it looked like NXP Semiconductors NV's stint as a political bargaining chip was finally over. It could only dream.
Chinese regulators were set to approve the Dutch chipmaker's $43 billion takeover by Qualcomm Inc., according to South China Morning Post. NXP jumped as much as 12 percent in after-hours trading, peaking just $2 short of the $127.50 offer price.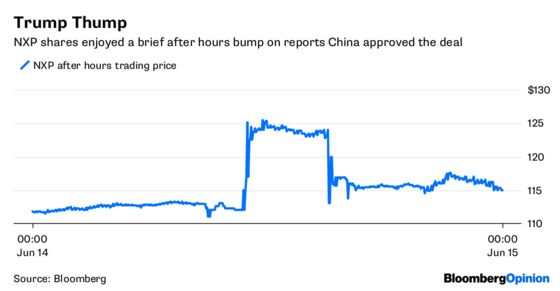 A mere 45 minutes later, Bloomberg News reported that President Donald Trump had approved tariffs on about $50 billion of Chinese goods, including technology products. NXP shares erased most of their gains on concern its deal will be blocked in retribution.
The combination is designed to create a connected car powerhouse, combining the Dutch company's automotive power management strength with the U.S. giant's dominance in communications technology.
But the takeover had become a political football after the Trump administration penalized Chinese telecoms equipment maker ZTE Corp. for breaking a 2017 sanctions settlement. Chinese regulators responded by shelving their review of the Qualcomm-NXP deal. Trump, in turn, rowed back on the penalties for ZTE, and China promptly restarted the NXP review.
NXP's usefulness as a bargaining chip is, however, rapidly expiring. The company has set a July 25 deadline for the deal to close. Given the concessions the U.S. made on ZTE, clearing the NXP deal would give China some political goodwill in Washington.
Should the deal fail to come together in time, Qualcomm will pay NXP a $2 billion breakup fee. If NXP uses that money to buy back shares, it could add as much as 60 cents to its $2.63 trailing 12 month earnings per share, according to Rajvindra Gill, an analyst at Needham & Co.
That will be little consolation for the Dutch company's shareholders, who have seen the value of their stock gyrate in line with likelihood with the deal going ahead.
For Qualcomm's managers, there have been moments this year where Trump has stepped in to help -- not least by blocking an unsolicited takeover attempt by Broadcom Inc. This is not one of them.