Stocks Slide as U.S. and China Swap Tariff Threats: Markets Wrap
(Bloomberg) -- Stocks fell and bonds surged as the U.S. and China swapped trade threats, while investors weighed diverging monetary policies from the Federal Reserve and European Central Bank.
The S&P 500 Index dropped Friday, erasing its weekly gain, after President Donald Trump's administration announced a list of $50 billion of Chinese goods targeted for tariffs and China said it would put tariffs on some American imports starting next month. Trade-sensitive sectors including tech hardware and industrials led the decline. Energy firms also got hit by a drop in oil prices.
"If there's anything that goes wrong with technology -- and here we are talking about in these tariffs attacking U.S., China technology -- if the tech sector gets hit in any way, the market has a major problem," Jay Pelosky, chief investment officer at TPW Investment Management LLC, said on Bloomberg TV.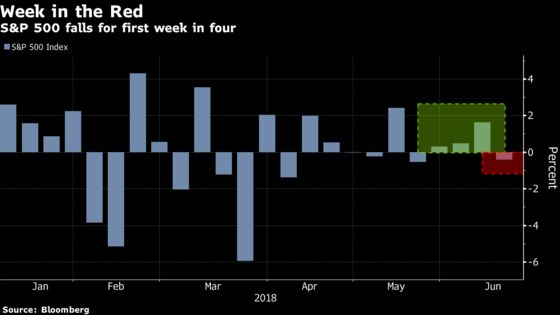 Treasury yields dipped and Italian debt led a rally in European bonds, which was triggered a day earlier by the ECB ruling out a rise in interest rates until the second half of 2019. The euro gained after Thursday's slump and the dollar was steady. West Texas crude slipped in the run-up to next week's OPEC meeting, where a clash over raising production is brewing.
U.S. trading volume soared Friday, and markets may be subject to unexpected swings, because of a quarterly event known as quadruple-witching, when futures and options contracts on indexes and individual stocks expire.
With reports suggesting America is already preparing a second list of targeted goods worth as much as $100 billion, China said it doesn't want a trade war but would have to counter. Stocks in the country fell earlier, and the Shanghai Composite gauge closed at its lowest level since September 2016.
Emerging markets remain under pressure as worries about an overhaul of Argentina's central-bank leadership roil the peso. South Korea's won and Colombia's peso led declines Friday. Meanwhile, Russia's ruble pared a decline after the central bank extended a pause in monetary easing and said its shift to looser policy needs to be slower.
Terminal users can read more in Bloomberg's Markets Live blog.
Here are the main market moves:
The S&P 500 Index decreased 0.4 percent as of 1:45 p.m. New York time.
The Stoxx Europe 600 Index decreased 1 percent.
The U.K.'s FTSE 100 Index sank 1.7 percent.
Germany's DAX Index decreased 0.7 percent.
The MSCI Emerging Market Index decreased 1.2 percent to the lowest in six months.
The Bloomberg Dollar Spot Index climbed less than 0.05 percent.
The euro gained 0.3 percent to $1.1606.
The British pound gained 0.2 percent to $1.3284.
The Japanese yen advanced 0.1 percent to 110.55 per dollar.
The yield on 10-year Treasuries declined three basis points to 2.91 percent, the lowest in over a week.
Germany's 10-year yield declined two basis points to 0.40 percent.
Britain's 10-year yield decreased one basis point to 1.328 percent.
West Texas Intermediate crude decreased 2.8 percent to $64.99 a barrel, the biggest drop in over two weeks.
Gold sank 1.9 percent to $1,278.15 an ounce.
LME copper sank 2.2 percent to $7,020 per metric ton, the lowest in more than a week.