Stock Flows Haven't Been This `America First' Since Trump Won
(Bloomberg) -- Clinging to their own version of "America First," global investors are tilting further away from European and Asian assets.
Fresh money poured into U.S. equity and bond funds during the week ended June 13, extending the longest net inflow streak for the country's stocks "since the aftermath of President Donald Trump's election victory" in 2016, according to a report from EPFR Global. The findings strike a similar note as Bank of America Merrill Lynch's June survey, which showed fund managers overweight U.S. stocks for the first time in 15 months.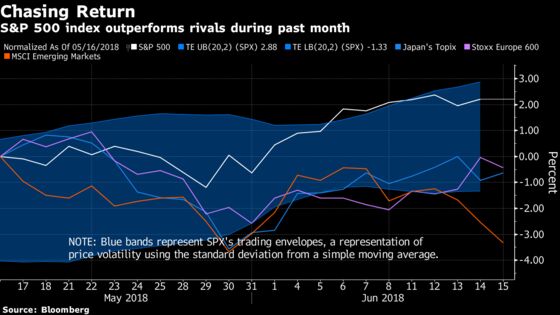 "With growth slowing in China, Japan and Europe while a number of emerging markets wrestle with sharply depreciating currencies, attractive alternatives to the U.S. are in short supply," Cameron Brandt, director of research at EPFR, wrote in a note.
Investors are tantalized by the S&P 500 Index's 2.9 percent return this month, when the average equity gauge globally is up less than 1 percent. After an on-again, off-again recovery following February's decline, U.S. equity markets have proven relatively resilient. The U.S. benchmark had its best May performance since 2009, as Corporate America's earnings trajectory outperforms peers in the developed world.
U.S. bond funds also absorbed cash, with flows reaching the highest level since early April. Meanwhile, European stock funds lengthened an outflow streak that has seen investors pull more than $35 billion since early March, the research company said in a report.
Highlights of the report:
Emerging-market equity and bond funds lengthened their longest run of net outflows since 2016's fourth quarter.
Europe equity funds extended their longest outflow since the third quarter of 2016; redemptions from Europe and Asia Pacific bond funds hit record highs.
Overall, EPFR-tracked equity funds absorbed $5.6 billion while bond funds experienced a "modest net outflow" and more than $40 billion left money market funds.
Dividend equity funds saw a 12-week outflow streak come to an end.