How a Satirical Tweet Managed to Dent Euro and German Stocks
(Bloomberg) -- Investors worried about the potential impact of fake news on financial markets, look away now.
German stocks and the European common currency briefly dropped on Friday, while bunds rallied, after some media organisations reported as real news a German satirist's tweet that the coalition government of Chancellor Angela Merkel had collapsed over the thorny issue of migration.
The market moves unwound quickly when it became clear that the story originated from a magazine called "Titanic" -- which is along the lines of a German version of The Onion.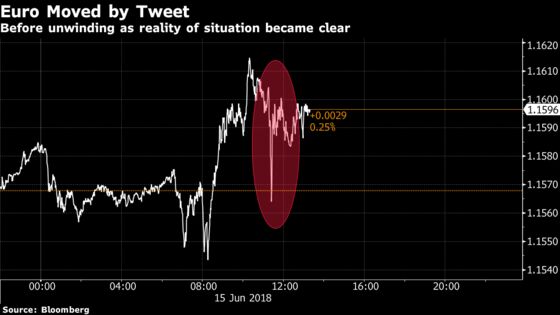 The reporting error came as Merkel faces pressure from her government partners over plans to deal with Europe's migrant crisis. The Bavarian CSU wants Germany to start turning migrants away at the border, while the chancellor wants to reach a broader agreement with other European countries.