ETF Stuffed With Tech IPOs Outpaces the Stock Market: ETF Watch
(Bloomberg) -- Looking for stock market returns? Forget the FAANG stocks and check out what's happening with tech IPOs.
Newly-listed technology companies are soaring past their large-cap rivals, sparking a 7.6 percent gain this month in a pint-sized exchange-traded fund that holds stocks that recently went public. By comparison, the S&P 500 Index is up 3.1 percent and the Nasdaq 100 Index has climbed 4.8 percent over that time frame.
The Renaissance IPO ETF, cleverly known by its ticker IPO, has climbed as Chinese-video entertainment firm iQIYI Inc., Spotify Technology SA, Snap Inc. and Dropbox Inc. have driven the fund.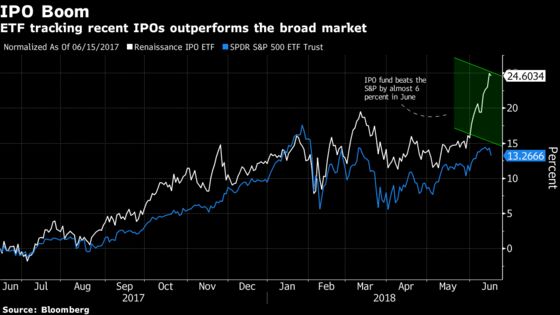 The ETF tracks roughly the top 80 percent of newly listed companies based on market capitalization that have yet to be included in major U.S. equity indexes, such as the S&P 500 Index or Nasdaq Composite Index. Sizable IPOs are added on a "fast entry basis," and the rest are brought in during scheduled quarterly reviews, according to the fund description. Stocks are removed two years after their first trading day.
Spotify is IPO's largest holding, making up 7.4 percent of the portfolio, followed by US Foods Holding Corp. at 5.7 percent and Snap at 5.4 percent. But it's the inclusion of iQIYI that's contributed most to the fund's recent rally. The shares are up more than 57 percent this month.
U.S. technology IPOs have also been booming this year, rising 77 percent on average, weighted by offering size, according to data compiled by Bloomberg. All other new U.S. listings average a 12 percent return. Next week may be the busiest of the year for IPOs, with 11 planned deals, mostly from biotechnology firms.
"Some people think this is the Uber market, that we're just going to run until the Uber IPO happens," Rett Wallace, chief executive officer of Triton Research, said on Bloomberg TV last week. "People get excited for the big ones."