Turkish Yields Head for Record While Lira Loses Rate-Hike Boost
(Bloomberg) -- Turkey's 10-year bond yields rose for a third day toward the highest closing level on record, as traders braced for a deluge of debt sales next week and turned their attention to the prospect of tighter monetary policy at major central banks. The lira tumbled.
The rout is compounded by a dearth of liquidity before markets close for a religious holiday on Thursday and uncertainty over the direction of economic policy after elections scheduled for next week. President Recep Tayyip Erdogan can win the presidential vote in the first round on June 24 with 50.8 percent support and get the backing of a majority in parliament, according to a poll commissioned by Bloomberg. But a surprise victory for the opposition was also within the survey's margin of error.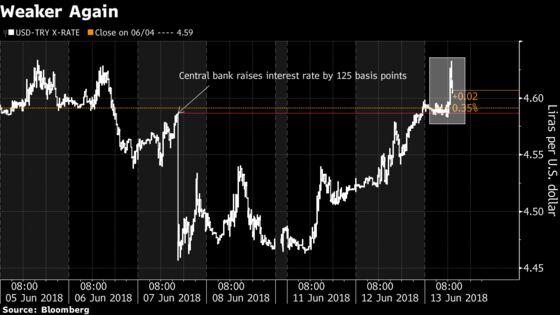 Turkey's central bank was forced into raising interest rates by 500 basis points over the past two months to help anchor the nation's assets, but it hasn't proved enough to restore confidence. Erdogan, who has declared himself an "enemy of interest rates," told investors in London last month that were he to win the vote, he would take a more active role in economic and monetary policy.
"It concerns me that even with a 500 basis-point hike in policy rates by the CBRT, which should be more than enough with FX adjustment to deliver the required re-balancing, the market is still not buying it," said Timothy Ash, a strategist at BlueBay Asset Management in London. "I think the explanation is that post Erdogan's London trip there is zero confidence in Erdogan's own macro policy instincts."
The yield on Turkey's 10-year bonds jumped 67 basis points to 16.25 percent on Wednesday and the lira dropped 2 percent to 4.6976 per dollar, its weakest level since May 28. The lira had rallied at the end of last week after the central bank raised rates by another 125 basis points to 17.75 percent.
Turkey's twin deficits leave it especially vulnerable to the phasing out of loose global financial conditions. Investors are bracing for the Federal Reserve to signal one or two more interest-rate increases this year later on Wednesday, while strategists expect the European Central Bank to announce an end to its asset-purchase program on Thursday.
Turkey's Treasury is also due to to sell 13.4 billion liras ($2.9 billion) of debt next week, compounding headwinds before the June 24 vote.
"The best scenario for the lira would be that the economy slows down, shrinking the nation's imports and reducing its current-account deficit," said Hideo Shimomura, chief fund manager at Mitsubishi UFJ Kokusai Asset Management in Tokyo. "However, downside risks remain on the fiscal and political front as the outlook on that is unclear at this point before the election."