Inditex Margin Reassures, Despite Sales Miss: Street Wrap
(Bloomberg) -- Inditex SA reported mixed results, as a gross margin beat provided relief for investors while first-quarter sales missed expectations. The margin beat was a positive surprise, and a trend of falling margins has been one factor weighing on the shares for the last year, according to Banco Sabadell analysts.
Shares in the Zara owner erased losses of as much as 4.6 percent to trade 2.6 percent higher as of 12:35 pm in Madrid. The stock is the largest gainer on the Stoxx 600 Retail Index, while competitor Hennes & Mauritz AB fell 1.4 percent.
The company said in a call with analysts it will not change its gross margin guidance for the year.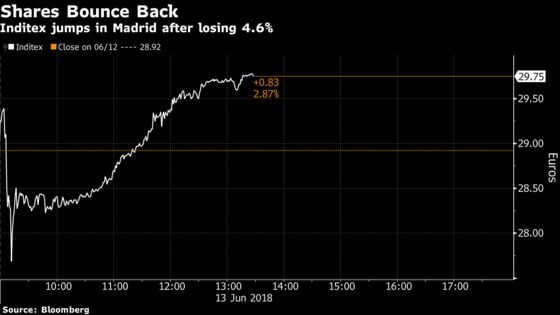 Here's a roundup of what analysts are saying about Inditex quarterly earnings:
Banco Sabadell (Buy, PT EU33.55)
Gross margin a positive surprise; beat could be driven by change in new season collection roll out (which has been delayed to the first quarter), changes in pricing or currency effects
After dropping since 2013, an improvement in gross margin is positive as it was one of the reasons dragging down the shares in the last year
Berenberg (Sell, PT EU22)
Revenue miss was driven by weak end of quarter, likely as a result of unseasonal weather
Sales miss offset by strong beat on gross margin, which allay some of the concerns around margin erosion from pricing pressure
Majority of growth continuing to come from the online channel
Consensus for full year may nudge up about 1%
RBC (Outperform, PT EU32)
Expect shares to continue to push on as the gross margin pressure has been one of the biggest bear points on the stock
Sees Inditex as a long-term global multi-channel winner in apparel
Morgan Stanley (Equal-weight, PT EU26)
Profit beat probably mostly driven by gross margins, since sales were below expectations
Trading YTD up 9% on a constant currency basis, implying growth has accelerated a bit since end of 1Q, "but remains somewhat challenging"
FY consensus forecasts aren't likely to move much
Bryan, Garnier & Co (Buy, PT EU35)
Trading update for start of 2Q is reassuring as it was achieved on top of difficult market conditions in countries including Spain, France or Germany

Inditex has reported store and online sales in local currencies increased by 9% from May 1 to June 11