Germany Signals It Won't Target Transport for Quick Carbon Cuts
(Bloomberg) -- Chancellor Angela Merkel's government is signaling it doesn't see a way to make a quick reduction in carbon pollution coming from cars and trucks as Germany seeks ways to fulfill European Union climate protection pledges.
Merkel's Cabinet on Wednesday is reviewing an update of national carbon emissions that show a widening chasm between promise and reality. The report -- leaked this week -- has sparked division in the cabinet over how to push down pollution across the economy. German car and truck makers may be relieved to discover they're not in the front line of cuts.
Cars and trucks in Germany -- minus through-traffic from foreigners -- were responsible for about 19 percent of the nation's carbon pollution last year, equivalent to 166 million tons, according to the report issued by the government on Wednesday. In one optimistic scenario, transport may reduce that output to 157 million tons by 2020.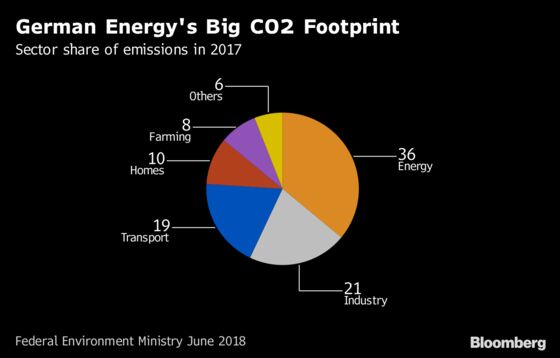 The projection is a sign that Merkel's administration isn't planning big cuts in CO2 output from transportation anytime soon as it ponders how to achieve its climate protection pledge to EU partners. Europe's biggest source of CO2, has promised to reduce emissions 40 percent by 2020, but will achieve at most 32 percent, according to the report.
Transport, industry, agriculture and heating will all get off lightly as the administration tries to close the CO2 gap by 2020, said a senior government official yesterday, speaking to reporters on terms of anonymity. Cabinet ministers are at loggerheads over policy, leaving the energy sector to take the brunt of reductions, the person indicated.
Transport Minister Andreas Scheuer this week blasted a proposal of Environment Minister Svenja Schulze for the transport sector to halve its emissions by 2030 amid diminishing prospects for the industry to supporting that national 2020 CO2 reduction target.
"I'm not going to support the destruction of the European car industry," Scheuer, a member of the Bavarian Christian Social Union, told Der Spiegel magazine.
Still, while squabbling over climate policy, Merkel's Cabinet must agree on sector reductions in CO2 for 2020 in the coming months before the chancellor heads to the next round of United Nations-organize climate talks in Poland in December.