European Stocks' Next Headwind? Emerging Market Currencies
(Bloomberg) -- Just as the headwinds from Italy and Spain have subsided, European stocks are facing another hurdle, this time coming from outside the euro area as currency risk in emerging markets takes hold.
European companies with significant exposure to markets such as Latin America, Turkey and South Africa could face turbulence if the currencies in those regions continue their recent slide against a dollar bolstered by expectations the U.S. Federal Reserve is about to further raise interest rates this week.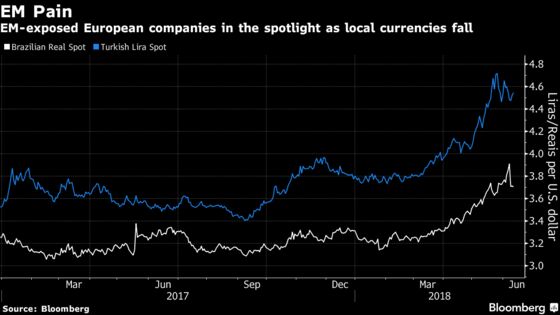 The Bloomberg Dollar Spot Index has gained about 6 percent since late January, while Brazil's real has weakened around 15 percent over the same period. The Argentine peso has depreciated 25 percent, Turkey's lira has dropped 18 percent and South Africa's rand is 10 percent lower.
The sell-off was continuing on Wednesday, with the MSCI Emerging Markets Currency Index falling below its 50-week moving average for the first time since December 2016. Some analysts take this as a sign that more losses are on the horizon. The declines are being led by the Turkish lira and the South African rand.
Some of Wall Street's largest banks, including Goldman Sachs Group Inc. and Morgan Stanley, are expecting more pain to come for Argentina, with Goldman saying the peso may slide a further 13 percent before the end of the year. Even the normally bullish investor Mark Mobius said in late May that there's worse to come for emerging markets.
Here is a list of European companies most exposed to the local currencies mentioned, according to company disclosures and Bloomberg data:
French meal vouchers group Edenred has 42% of group sales coming from Latin America, and a big chunk of that is from Brazil
French supermarket operators Casino Guichard-Perrachon SA and Carrefour SA also have significant sales exposure to Latin America, with Casino getting about 45% of its 2017 sales in South America and Carrefour generating about 17% of its sales in the same year from Brazil alone
Spanish firms are also heavily exposed: Brazil is the largest market for Banco Santander SA, telecoms group Telefonica SA made 62% of group sales in Latin America in 2017 and insurer Mapfre SA made 40% of its sales in the region in the same year
Anheuser-Busch InBev, the world's largest brewer, made about 40% of its sales in 2017 in Latin American currencies and counts Brazil as its largest market alongside the U.S.
Spanish lenders Santander and Banco Bilbao Vizcaya Argentaria SA both have a significant presence in Argentina and have locally-listed units operating in the country
Spain's Codere SA, an operator of bingo halls and casinos, made more than a third of its sales in Argentina in 2017
Telefonica also has a sizeable exposure to Argentina's telecoms market
Distribuidora Internacional de Alimentacion SA, a food retailer, made about 16% of its sales in Argentina in 2017. It, along with security services firm Prosegur Compania de Seguridad SA, fell in May when the country raised interest rates for the third time in a week
Vodafone Group Plc owns 65% of Vodacom Group, Africa's biggest mobile phone company
A number U.K.-listed mining companies have big operations in South Africa, including Anglo American Plc and Glencore Plc
Barclays Plc has a 16 percent stake in Barclays Africa Group Ltd, South Africa's third-biggest bank
Other companies exposed to South Africa feature Old Mutual Plc, Steinhoff International Holdings NV, Mediclinic International Plc, Mondi Plc and Aggreko Plc
BBVA has a significant stake in Turkiye Garanti Bankasi, Fiat Chrysler Automobiles NV has a joint-venture with Tofas Turk Otomobil Fabrika, and Turkish lender Yapi Kredi Bankasi AS is controlled by UniCredit SpA and Koc Holding AS
Other companies also exposed to Turkey, according to Bloomberg data, include Befesa SA, GVC Holdings Plc, OMV AG, Vicat SA and Klepierre SA