World's Largest Pork Producer Becomes Hong Kong's Worst Stock
(Bloomberg) -- Analysts can blame the U.S.-China trade spat for turning their favorite pork producer into the worst performer on Hong Kong's benchmark Hang Seng Index.
WH Group Ltd., the world's largest pork company, sank 3.6 percent on Tuesday at the midday break in Hong Kong, taking its three-day loss to 11 percent to become the year's worst performer on the index. With the company getting more than half of its revenue from the U.S., investors are fleeing the stock ahead of a June 15 deadline for announcing the Chinese products that will be subject to 25 percent tariffs.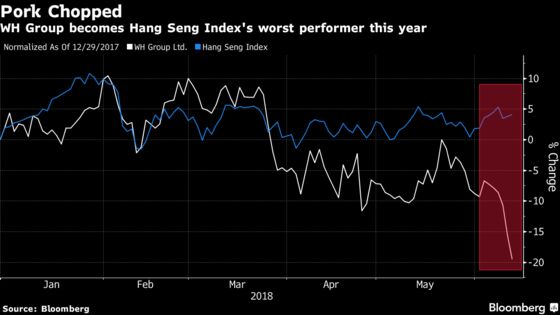 "The majority of people tend to think the tariffs are really coming," said Linus Yip, strategist at First Shanghai Securities. "The market is looking to reduce risks on related companies. WH Group is among companies with heavy exposure to the U.S."
The selloff has escalated on a downgrade by Credit Suisse Group AG, he added. In WH's first rating cut since October 2017 by analysts tracked by Bloomberg, Credit Suisse downgraded the stock to neutral in a report this week, citing increased tension in international pork trade and low price of the commodity. WH's next half-year results will be a "major disappointment" for investors as the expected recovery in the U.S. market is unlikely, according to its report.
Still, WH has the third-highest consensus rating on the Hang Seng Index, even slightly above another analyst darling Tencent Holdings Ltd., with 17 buy recommendations and zero sell ratings. The stock joined Hong Kong's benchmark gauge last year as it rallied 41 percent. WH has given up some of those gains, with a year-to-date drop of 19 percent.