U.S. Government Lowers Domestic, World 2019 Output Forecasts
(Bloomberg) -- Next year, the U.S. government doesn't see global or U.S. crude production as high as it once did.
The Energy Information Administration decreased its 2019 forecast for global production to 102.21 million barrels a day, with most of the downward revision from the Organization of Petroleum Exporting countries. World demand growth is unchanged. At the same time, it sees U.S. crude production averaging 11.76 million barrels a day, 10,000 barrels a day lower than the May outlook.
"Global oil supplies have been lower than expected, notably because of outages in major oil producer, Venezuela," Linda Capuano, Administrator of the EIA, said. "The forecast for Brent crude oil is for spot prices to remain above $70 per barrel this year, as global oil demand outpaces supply."
The EIA boosted its Brent estimate for both this year and next.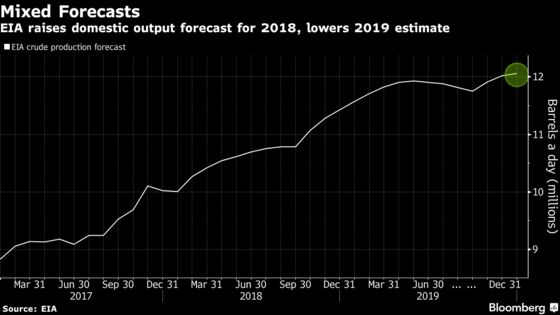 The agency sees domestic output averaging 10.79 million barrels a day this year, above the 1970 record of 9.6 million a day and higher than forecast in its May report, according to the EIA's Short-Term Energy Outlook released on Tuesday.
That's even as West Texas Intermediate crude has sunk more than $5 after climbing above $70 a barrel last month. Drillers in the U.S. aren't slowing down, despite the slight downturn in U.S. crude prices. Oil rigs have climbed nine out of the 10 past weeks. On a weekly basis, the U.S. is already producing at a record-high.
Next year, the agency sees total crude and petroleum product net imports falling to 1.6 million barrels a day, levels not seen since 1959.