Copper Giant's Cost Crusade Imperiled by Wage Largess of Peers
(Bloomberg) -- Generous wage concessions made by private-sector copper producers to avoid strikes in Chile are emboldening unions at Codelco, undermining efforts by the state-owned behemoth to contain costs.
That's the view of Chief Executive Officer Nelson Pizarro, whose focus on costs in a five-decade mining career earned him the nickname "scissor-hands." Pizarro has settled six wage negotiations this year without a strike, but faces 11 more in the coming months, including at flagship mines Teniente and Chuquicamata.
"Privately-owned miners make it more difficult for us because they have been generous," Pizarro said in an interview in Santiago on Monday. "In the years of the downturn we were not only austere, we were signing contracts with no salary increase and our bonuses were a third of those paid by private miners."
With prices of the metal recovering to near four-year highs, companies operating in Chile, the biggest copper-producing nation, have paid the largest one-time bonuses in years to appease unions and prevent stoppages.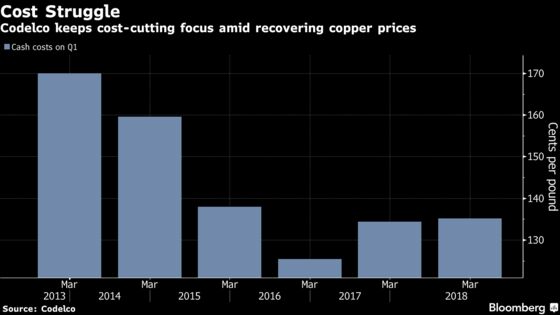 That's creating additional cost pressure for Codelco, which must hand over 10 percent of its revenue to the Chilean armed forces and is locked into a record capital-expenditure program to prevent output from dropping after decades of under-investment.
In the most recent wage agreement, BHP Billiton Ltd.'s Spence mine granted a 13.5 million-peso ($21,300) bonus and a real wage increase of 2 percent. In comparison, Codelco handed over an 8.7 million-peso bonus and a 1 percent pay rise at its Radomiro Tomic mine in April.
For analysis of wage talks in Chile, click here
All eyes are on BHP's negotiation with workers at Escondida, the world's largest copper mine. Wage talks last year stalled and resulted in a 44-day strike that ended with no agreement. Now, workers have presented their demands to the company, which include a 5 percent real wage increase and a bonus of between 21.5 and 25.8 million pesos. If agreed, it would the most generous ever paid in Chilean mining.
"If Escondida comes up with a gigantic bonus then, Houston, we have a problem," Pizarro said. "It is highly probable that Escondida gives an enormous bonus."
If there is a strike at Escondida, it will be short, Pizarro said, arguing that the last stoppage was hard on workers' personal finances because they weren't paid for six weeks and didn't get bonuses. BHP will also be weighing up the lost income that another strike would incur with the cost increase of big wage increases at a time of declining ore quality.
Codelco is facing negotiations with workers at Teniente, its largest mine, and supervisors in Andina later this year. Talks will focus on productivity and comparing each division with its peers in the industry, he said.
"It is very difficult to hand over money if there is no productivity," Pizarro said. "We are working with our union leaders on the idea that whatever Escondida hands over, that is not a reference. That's Escondida's reality."