Quant Funds Pull Back on Stocks as Hidden Volatility Builds
(Bloomberg) -- A record spike in equity volatility couldn't get the quants to sell, but bubbling market stress below the surface has finally spurred them to offload.
Quantitative hedge funds on Credit Suisse's prime services platform have ended their 18-month streak of relentlessly buying stocks. They've reduced exposures by about 10 percent over the past two months through the end of May. Over the past week or so, such funds have held broadly steady.
Shifting undercurrents in an ageing economic cycle are spurring an uptick in the dispersion and volatility of returns in factors tracked by quants such as value, momentum and growth. It's also disrupting statistical models that follow price relationships, according to Mark Connors, the head of risk advisory at Credit Suisse Group AG.
"Maturing growth, central-bank policy, trade wars -- they've all created these winners and losers among sectors and rotations across assets," he said.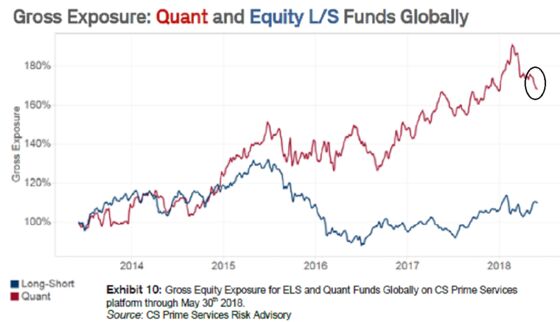 Quants, with thousands of long and short stock positions, typically pare holdings when price swings are elevated as they are obliged to cut leverage in tandem. Now, an increase in the volatility of factor returns -- which is hard to see when looking at headline indexes -- has spurred divestments.
"Below-the-surface dynamics" show markets lacking conviction on key trends with volatility inputs in risk models used by many quants at elevated levels, according to Connors.
The positioning shift is significant because such funds effectively bought into the downturn caused by February's record VIX spike, with the gauge now below its two-year average. At 12.4, it sits at a third of the level reached during the February peak.
Thank relentless moves in market leadership. Take U.S. tech stocks. In March, the sector posted its worst month in nearly two years, only to trade flat in April, and then gain 7.1 percent in May.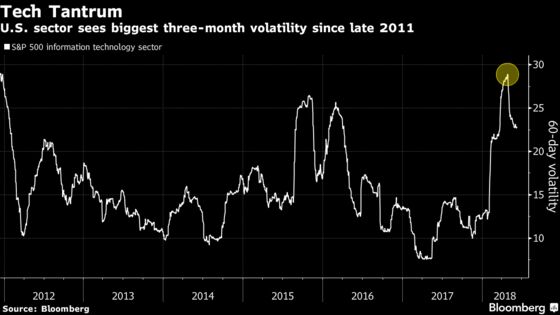 Another culprit: regional rotations. Patchy economic data and political drama in Europe have spurred a bid for U.S. stocks. That belies Wall Street consensus coming into 2018 that less-expensive equities in the euro area offer investors sanctuary.
Changes in the economic cycle are vexing factor performance, said Khuram Chaudhry, a quantitative strategist at JPMorgan Chase & Co. "Dispersion is starting to widen, and that's when you need to be more clever about what styles and factors you need to be in," he said.
For example, European value stocks had performed the best out of any quantitative style in April, according to JPMorgan. The sector delivered the worst one-month performance since the Brexit vote, as of last week, according to Bloomberg data. Shifts in market leadership have curbed quant returns this year, the U.S. bank wrote in a recent report.
Sure, the cut in equity exposures, as per Credit Suisse data, comes after January's record, and is modest relative to the tumult after the Brexit vote. But, as one of the busiest weeks in the world economy kicks off in earnest, the shifting factor landscape underscores the challenges for robots and humans alike.