Investors Yanking Cash From EM ETFs See Little Reason to Return
(Bloomberg) -- Investors who pulled the most money from emerging-market ETFs in the past three weeks since November 2016 have little incentive to return anytime soon as they await interest-rate decisions from the world's largest central banks.
Meetings at the Federal Reserve and European Central Bank come after investors yanked $406.1 million from exchange-traded funds focused on stocks and bonds from developing nations. They pulled $1.47 billion in the previous week, data compiled by Bloomberg show.
While few expect surprises, the base case doesn't provide much of a catalyst to clamber back into the ETFs. U.S. policymakers are projected to raise the key rate by a quarter percentage point to between 1.75 percent and 2 percent. Their European counterparts will discuss the end of asset purchases this year.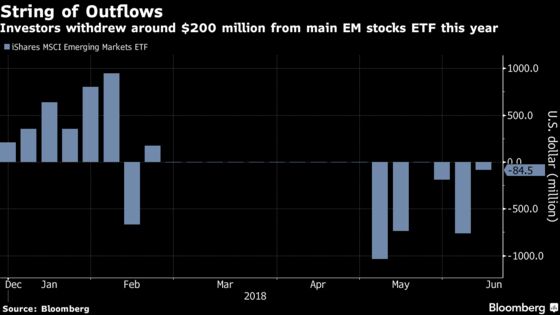 "An event to start a strengthening trend does not appear to be on the horizon, which suggests that EM assets will struggle this week," Per Hammarlund, chief emerging markets strategist at SEB in Stockholm, wrote in a note.
Emerging market stocks and currencies may have stabilized after an April selloff, but still lack a trigger to rebound given domestic jitters. Last week, the biggest ETF outflows were in Mexico, where a Nafta deal is still elusive and leftist presidential front-runner Andres Manuel Lopez Obrador maintains his poll lead. Malaysia and India also had consecutive outflows.
A short-term rebound depends on more dovish-than-expected Fed and ECB decisions, said Andy Wester, senior investment analyst at Proficio Capital Partners in Newton, Massachusetts. Longer term, EM ETFs can recover inflows based on structural factors and momentum, but that's still uncertain.
"We can probably expect that structurally, in the medium term, the ETF flows will win market share over active managers in the EM space provided that EM markets become more efficient and thus harder for active managers to outperform, and stronger growth and equity market performance leads to more flows," Wester said.