Draghi May Help Worst-Performing European Stocks Find Way
(Bloomberg) -- Investors in European banking stocks, pariahs of this year's equity market, may be especially interested in Thursday's crucial European Central Bank meeting.
With the market confident that an end to the ECB's bond-buying program will be announced no later than July, eyes are now turning to the timing of the European rate increase. While most analysts don't expect the ECB to hike rates before 2019 -- a move that would boost the income of lenders -- Citigroup Inc. is reiterating its overweight call for bank stocks on an expectation that the unloved shares will start pricing in the prospect of higher rates.
"The banking sector remains very sensitive to higher rates," Citi strategist Jonathan Stubbs said in a note on Friday. "The ECB's success at ending quantitative easing and raising rates in the coming 12-18 months should support an extended earnings per share recovery from the sector."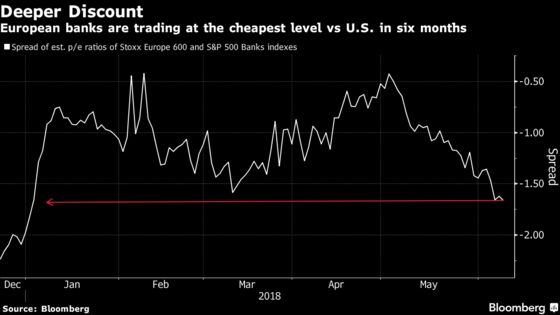 The sector's bulls were in the ascendancy on Monday as bank stocks were boosted by a signal that Italy will stay committed to the euro. The Stoxx 600 Banks Index rose as much as 1.7 percent, though is still 10 percent lower this year, the worst performance among Stoxx Europe 600 sectors, weighed down by concerns about Italy's new populist leadership and slowing regional economic growth. The average valuation of the Stoxx 600 Banks Index is about 11 times forward earnings, compared with 16 times for U.S. lenders.
It appears that bankers agree with Citigroup's bullish outlook. Banco Santander SA Chief Executive Officer Jose Antonio Alvarez said on Friday that rising rates in Europe will help banks compete with the U.S. and that the end of European quantitative easing won't have an effect on economic growth.
Analysts have cut their earnings estimates for the sector for this year as economic and political risks have mounted, while maintaining the growth outlook for next year. European lenders are now projected to earn 5.6 percent this year, down from 9.4 percent seen in January, and 11 percent next year.
Thomas Pearce, a strategist at Deutsche Bank AG, which raised European banking stocks to overweight on Friday, says the market has already priced in the prospect of tapering, but banking shares could benefit from the ECB's reassurance about Italian risks. The nation's lenders have been the worst performers in Europe over the past month, with UniCredit SpA, Intesa Sanpaolo SpA and Mediobanca losing more than 20 percent as investors weigh the risk of Italy leaving the euro zone.
"One way in which the ECB officials could help banks is to say something supportive about the Italian political situation such as that they will be there to backstop risk," Pearce said by email.
The ascent of a populist government, accompanied by a market selloff that pushed yields to the highest level in four years, gave European policy makers an extra reason to press ahead with normalization about which they have so far been unrushed.
Luca Paolini, chief strategist at Pictet Asset Management, says Italian banking stocks are especially worth focusing on after the market turmoil due to their solid fundamentals, including a drop in non-performing loans. Indeed, the FTSE Italia All-Share Banks Index rose as much as 4.4 percent Monday, leading the sector higher.
"A hawkish turn by the ECB could be a turning point for Italian banking stocks, provided that the Italian bond spreads do not rise further," he said by email.