As China Defaults Rise, Foreign Fund Managers Step Up Visits
(Bloomberg) -- The surge in Chinese company bond defaults has overseas investors deciding they need to take a closer look.
Edmund Goh, an Asia fixed-income investment manager at Aberdeen Standard Investments, says he's planning to take more trips to China to get intelligence that's hard to gain from afar. Investors can get to see among others, people who work in risk departments at banks, who can tell them how they're classifying loans, he said. Or corporate treasury executives who may shed some light on their use of shadow banking financing.
"If you do field trips, you can meet people other than those investor relations staff," said Goh, who is based in Singapore, where a flight to China takes about six hours. "Even though you can't get a full picture, at least you will have enough pieces of the puzzle to help you make a sound decision."
With foreign holdings in the world's third-biggest bond market at a record high, the stakes are rising. Investors have been rattled by a lack of corporate financial transparency as rising funding costs from a deleveraging campaign spur a surge in defaults. A total of 15 publicly-issued bonds onshore have defaulted in 2018, compared with 23 for all of last year.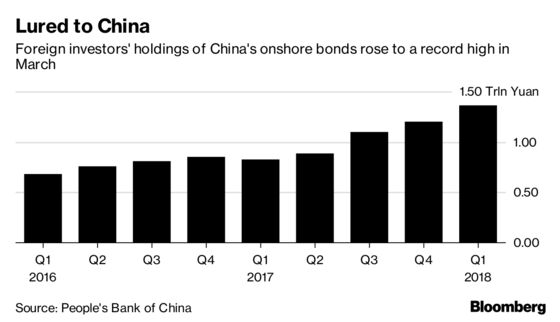 Goh's not alone. Singapore-based Raymond Chia, head of credit research for Asia ex-Japan at Schroder Investment Management Ltd., believes the number of defaults in China will rise further in the second half. He says he's considering taking more trips to meet management and industry experts to get a clearer picture.
Of course, some travel occurs after the default rather than before. Earlier this month, holders of bonds sold by China Energy Reserve & Chemicals Group Co. in South Korea visited the company's headquarters in Beijing to discuss debt payment issues, following a default last month by the company on separate securities.
Nikko Asset Management Asia Ltd. said Chinese bond issuance has grown to become a more important component in foreign asset managers' portfolios. Its Singapore-based credit analysts typically make eight trips per year and more if needed, said Ivy Thung, head of credit research at the asset manager.
In the first half of 2018, they're on schedule, with four trips so far.
"The field trips allow the analysts to have a better gauge of the overall macroeconomic situation as well as to gauge the real demand for each sector," she said. "We prefer to meet the people who are working on the ground such as operations manager, sales manager, etc."
For Aberdeen Standard Investments, Goh said the asset manager is going a step further with plans to set up its first onshore fixed-income research team in Shanghai in a couple of months, part of a drive to boost its presence in the local bond market.