Love for China Is Real as Foreign Traders Spend Record on Bonds
(Bloomberg) -- Foreign bond investors are loving China.
They've increased their holdings of the government's securities for a 15th month to a fresh record of 835.9 billion yuan ($130.5 billion), up by 229.4 billion yuan since January, data from the China Central Depository & Clearing Co. show. That's a meteoric rise from 2017, when foreign holdings of Chinese debt increased just 5.23 billion yuan.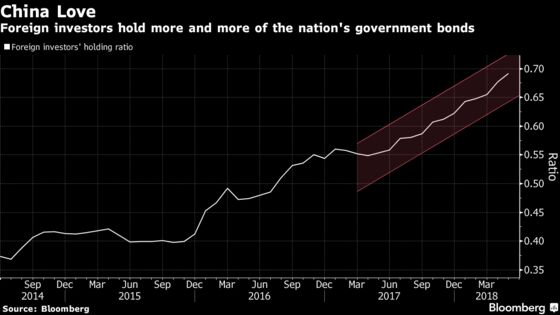 And that's poised to continue, says Chang Ming, managing director and fund manager at Jwin Capital. The opening up of China's domestic derivatives markets will make government bonds more attractive, and foreign investment will grow even faster, he says.
The increase in overseas holdings this year has surpassed China's government-bond net issuance of 207.8 billion yuan through May. It also represents more than three times the 74.3 billion yuan of debt bought by the nation's commercial banks.
April was particularly notable as monthly foreign holdings jumped the most in at least three years, helping accelerate a drop in the yield of five-year securities from a high in November. It slipped to a one-year low of 3.25 percent in April and now hovers around 3.51 percent, according to data from the China Central Depository & Clearing Co.