Indonesia Banks Face `Complicated' Impact From Rates: Citigroup
(Bloomberg) -- Indonesia's new central bank Governor Perry Warjiyo has voiced his willingness to raise interest rates to support the rupiah. Whether that's good for the nation's lenders is a different matter, according to Salman Ali, an analyst at Citigroup Securities Indonesia.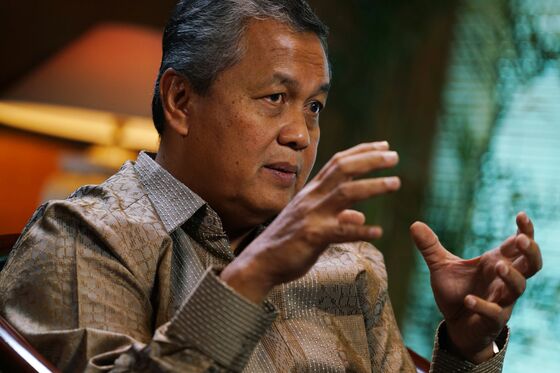 While higher rates are positive for asset prices and liquidity, their effect on banks' earnings is "complicated," Ali wrote in a research note to clients. During the last two rate hike cycles in 2008 and 2013, large banks saw higher net interest income growth on an increase in gross interest income growth. Although Bank Central Asia benefited the most in 2007 to 2009, there was "no clear winner" in 2012 to 2014, according to the note.
Based on March 2018 balance sheets, the impact on earnings per share from a 100 basis point increase ranges from minus 8 percent to positive 6.5 percent, the note said. Under the worst case scenario where banks can't raise the rates on loans and have to pay higher interest on customers' deposits, the impact ranges from minus 9 percent to minus 30 percent, with Bank Central Asia possibly seeing a 4 percent decline, Ali estimates.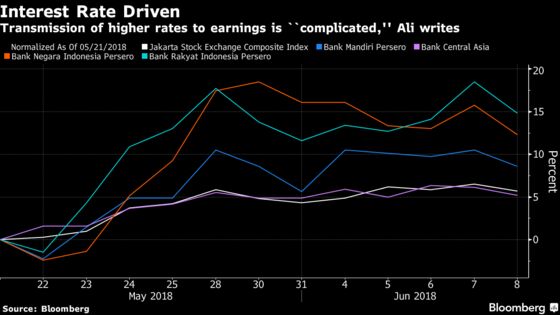 Warjiyo said in an interview on Wednesday that he'll take further policy action if needed, after Bank Indonesia raised rates at an out-of-cycle meeting on May 30 aimed at stabilizing the market. The rupiah has gained more than 2 percent against the dollar since Warjiyo took office on May 24, among the best performers in Asia, while the Jakarta Composite Index rose 4.6 percent.