Handful of U.S. Stocks Saw Split-Second Spikes Before Reversing
(Bloomberg) -- Several U.S.-traded stocks experienced split-second swings just before noon in New York. The moves -- gains or losses that reversed almost instantaneously -- occurred in companies including Yelp Inc., KAR Auction Services Inc., Vail Resorts Inc., Navistar International Corp. and exchange operator Nasdaq Inc.
Trading in KAR, a Carmel, Indiana-based auction services provider, was typical of the moves. Over a single second at 11:47 a.m. New York time, about 21,000 shares changed hands through more than 100 trades valued at roughly $1.1 million, according to data compiled by Bloomberg. The lowest price was about 2 percent below levels from before the event.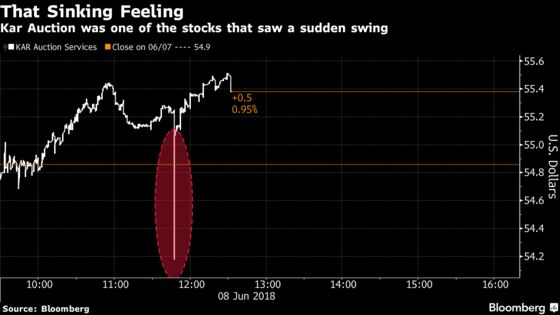 Michael Antonelli, an institutional equity sales trader and managing director at Robert W. Baird & Co., speculated that someone may have entered incorrect order instructions into a trading computer. Antonelli had no specific knowledge of the trades, who placed them or through what firm.
"Smells like someone screwed up," he wrote in an email. "When you do a program, you do tons of things at the same time. Does it happen often? Not really, but it does happen. Traders have to be really careful what buttons they push because they can cost their firm millions instantly."