Deutsche Bank, Commerzbank Merger Not Seen Soon: Street Wrap
(Bloomberg) -- Deutsche Bank AG shares declined as much as 2.2 percent, while Commerzbank AG dropped as much as 3.3 percent Friday after Bloomberg reported the chairman of Germany's largest bank held conversations in recent months with top shareholders and key government officials about a possible merger with its rival. The drop also followed a price target cut for Deutsche Bank by Morgan Stanley, prompted by revenue and market share concerns at the corporate and investment banking division.
While a combination of Germany's largest banks would lead to cost cuts and allow Deutsche Bank to reduce its dependence on investment banking, a deal isn't likely soon because "both banks still need to clean their balance sheet first," Natixis analyst Alex Koagne wrote in a note to clients. KBW also doesn't see any imminent merger of the German lenders, but says it would make sense over time on synergies.
There are no formal discussions on the matter at present, according to people familiar with the matter.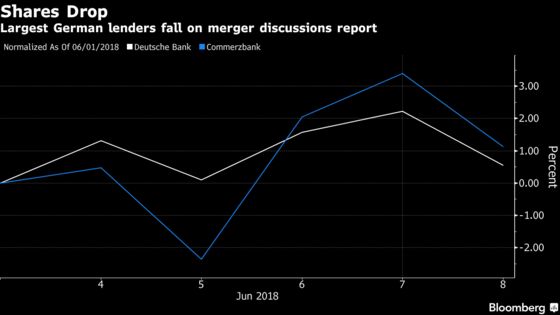 Here's a roundup of what analysts are saying about a possible merger of Deutsche Bank with Commerzbank:
Keefe, Bruyette & Woods analyst Thomas Hallett
Any deal has low probability in the near term
Commerzbank is halfway through its restructuring plan; Deutsche Bank expects to achieve 75% of targeted synergies from its Postbank, retail unit merger by 2021
Over time, a tie-up would be attractive on synergies from eliminating branch overlap, headcount reduction, product enhancement
Analyst has an underperform recommendation on Deutsche Bank, PT EU9
Natixis analyst Alex Koagne
A merger would help reduce Deutsche Bank's high exposure to investment banking, while improving earnings visibility, profitability
A deal would lead to cost cuts
Doesn't see merger as being possible at this stage as both banks still need to resolve balance sheet issues
Analyst has a reduce recommendation on Deutsche Bank, PT EU10
Bloomberg Intelligence analyst Jonathan Tyce
Value-added from a combination is still hard to see, with Deutsche Bank trading at such a huge discount to book, the financials aren't great
Germany remains over-banked domestically. Cost savings would be the lion's share of any deal, but that isn't a good enough reason.
Political turmoil across Europe has also deferred the likelihood of interest rate increases, which Commerzbank and Deutsche Bank desperately need