$24 Billion Stock Wipeout Attracts Top Fund to the Philippines
(Bloomberg) -- After losing $24 billion in value from its January peak, Philippine stocks are ready for a comeback.
That's according to Alan Richardson, an investment manager at Samsung Asset Management Co., whose fund has beaten 95 percent of peers over the past five years. The country's benchmark equity index slumped about 18 percent from February to May and has finally reached a bottom, he said in an interview.
"It has already priced in all the negatives on capital markets caused by U.S. liquidity tightening," Richardson said. "Just mean reversion on getting less worse is enough to make 10 percent or more."
Foreign outflows have reached almost $1 billion this year and the benchmark index has slipped 9.6 percent through yesterday's close, making it the Asia's worst performing stock market in 2018.
Richardson upgraded Philippine shares to overweight from underweight, two weeks after he did the same with Indonesian stocks. The Jakarta Composite Index has gained 1.9 percent since he went public with his bullish stance.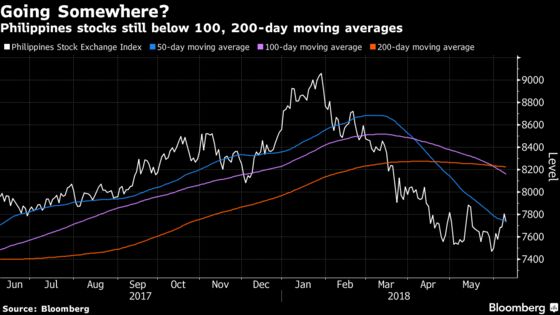 The Philippine Stock Exchange Index has rebounded 3.5 percent from a 14-month low on May 30. Analysts at Credit Suisse Group AG said the gauge has neared bottom in a report published June 7, but emphasized that "remaining headwinds should limit any bounce in shares," citing slowing earnings growth, rising U.S. bond yields and risks to headline inflation.
Still, Richardson thinks Philippines stocks will rally. He prefers local banks such as Bank of the Philippine Islands and Metropolitan Bank & Trust Co., as well as companies that have low valuations with the potential for earnings to recover like DMCI Holdings Inc., GT Capital Holdings Inc. and Semirara Mining and Power Corp.
"What is there not to be positive about? Growth is still 10 percent, markets have fallen on U.S. liquidity tightening, which is not going to get any worse, and fundamentals haven't been impacted," he said.