Roll Up for the Great Permian Sale (While It Lasts)
Permian-focused exploration and production companies have gone from untouchable to un-ownable in a matter of weeks. The region's logistical constraints have cut deep into the price fetched by Permian barrels and raised concerns about cash flow, budgets and growth.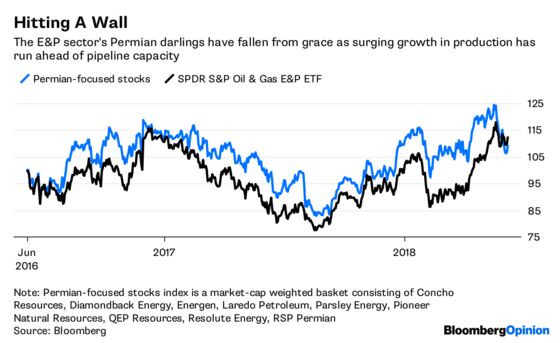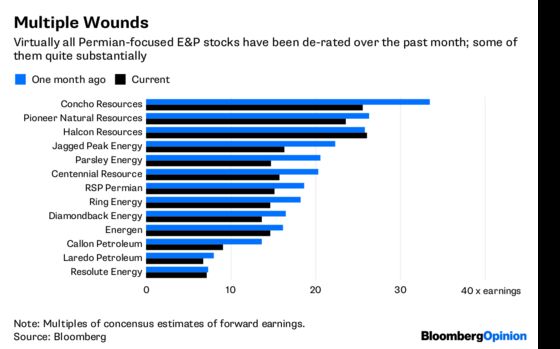 More to the point, that's a hefty relative de-rating.
For example, a month ago, Parsley Energy Inc., an $8.6 billion market cap firm, traded at a 29 percent premium to Exxon Mobil Corp., based on P/E multiples. Today, Parsley's at a 10 percent discount. The group as a whole has shifted from a 19 percent premium to a 5 percent discount versus Exxon.
I chose Exxon simply because it's been a big buyer of Permian assets in recent years and tends to use its stock as an acquisition currency, rather than any inkling of an actual deal.
The point is that such jarring shifts from top-shelf to bargain basement quite often spark deals. The Permian basin is unusually fragmented and ripe for consolidation, enabling further gains in efficiency (all the more important as cost inflation starts to rear its head around Midland, Texas). Concho Resources Inc.'s recently-announced offer for RSP Permian Inc. may have suffered for its high price and timing, but the underlying rationale is sound enough.
This doesn't suddenly make every Permian player a target. It's hard to see anyone making an offer for Pioneer Natural Resources Co., for example. Besides a market cap of almost $33 billion, Pioneer has an insurance policy against those discounts on Permian barrels in the form of firm contracts to pipe the vast majority of its oil to the Gulf Coast (and higher global prices). Its P/E multiple is down, but only to about 24 times. If anything, it's more likely to be a consolidator of its home patch.
It's the smaller companies such as Parsley, Laredo Petroleum Inc., Jagged Peak Energy Inc., or maybe even a mid-sized firm like Diamondback Energy Inc. – now trading at less than 14 times earnings – that could attract attention.
Besides valuation and scale, the other key factor here is time.
No management team will agree to a friendly deal if they think their stock is the victim of a brief panic. Permian E&P companies know that they still hold, in general, the most sought-after acreage in North America. They also know that the pipeline problem should be fixed sometime in the second half of 2019.
This, indeed, is what could make them so desirable to a potential acquirer. An oil major consolidating its position in the Permian basin, for example, would take months to close any deal and, in any case, would be focused on oil and cash flows years into the future.
The difficulty executives face at the E&P companies is persuading investors to look past current challenges and rediscover their love of the Permian's long-term potential. That isn't as easy as it might seem (right, Warren Buffett?). When similar issues in the Bakken shale basin prompted big discounts for local barrels and the shares of the companies producing them in 2012, it took more than a year for those stocks to regain parity with the broader sector, according to a recent report from analysts at Sanford C. Bernstein.
So we can probably expect Permian CEOs to urge investors to look at the big picture when earnings season kicks off in a month or so. In the meantime, their bankers will quietly be rounding up the wagons – providing they aren't already working for a potential opportunist, that is.