Not Enough Time on Clock to Sell Volatility, Morgan Stanley Says
(Bloomberg) -- Time is the enemy of the volatility seller, according to Morgan Stanley.
The level of implied volatility is too low and the time it takes to generate sufficient income from volatility-selling strategies too long for investors to profit from taking a negative position on price swings, strategists at the bank including Phanikiran Naraparaju, wrote in a note to clients this week.
"We find that equity, credit, G10 FX and rates need two quarters of current carry levels to be protected from mean-reversion in implied volatilities," the strategists said. "The cycle is far too advanced to give volatility sellers enough time to be able to withstand this."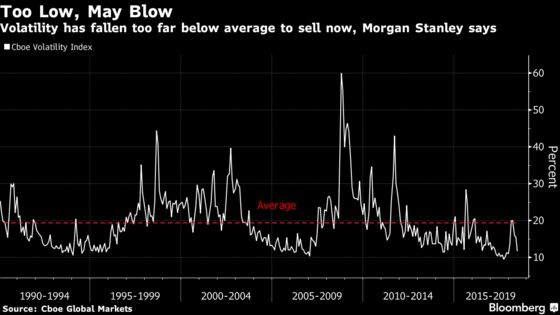 Spikes in volatility such as those earlier this year or during the recent Italian political crisis illustrate the case for price swings to be on the rise, according to Morgan Stanley. The Cboe Volatility Index saw a 13-standard deviation move in February, while Italy's political gridlock sparked a 10-standard deviation move in the Italian-German government bond yield spread in May, according to the note.
The VIX Index of equity volatility has fallen almost 70 percent from its year-to-date high in early February, when a record spike coincided with a stock slump that wiped out more than $5 trillion from global market capitalization. It traded just under 12 percent Thursday, while a reversion to the mean would see it rise to its long-term average of 19, according to Bloomberg calculations.
Speculators have been tempted back into trades betting against volatility, with the number of net short positions in the index back where it was in late January.
Morgan Stanley recommends investors take advantage of the decline to buy exposure to volatility. Suggested trades include buying put options on junk bonds, the dollar-yen exchange rate and Japanese equities.
Opportunities for those who have a more benign view on markets and want to sell volatility are limited, according to the strategists.
"Bottom line, selling vol on equity, credit and rates looks quite challenging despite positive carry, unless one is very optimistic on the longevity of the cycle," they said.