Investors Dump Junk ETF in Preparation for Rate Hike: ETF Watch
(Bloomberg) -- With interest rates all but assured to rise soon, investors are fleeing a popular exchange-traded fund that tracks short-term junk bonds.
The $2.4 billion iShares 0-5 High Yield Corporate Bond ETF, or SHYG, had more than $465 million of outflows on Wednesday, the most ever in a single day. But that was just part of the $1.5 billion that's left the fund over the last two weeks, as deserting investors have yanked almost 40 percent of its assets since May 29.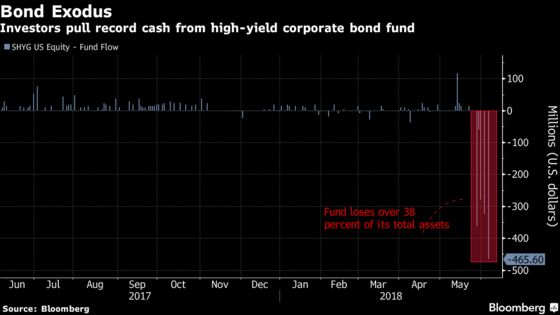 On May 23, Federal Reserve officials said the economic outlook warranted another interest rate hike "soon." Since then, the Fed has issued its Beige Book economic report showing that the economy is expanding moderately with little indication of overheating. And the Labor Department reported that in May hiring increased more than forecast, wages rose and unemployment reached the lowest in five decades.
All of which adds to speculation that the Fed will raise rates sooner than later -- making short-duration junk bonds increasingly unattractive as yield-hungry investors can get what they want from investment-grade debt.
"High-yield paper is starting to come under some pressure," said Dave Lutz, head of ETFs at JonesTrading Institutional Services. "It feels like portfolio managers are positioning for higher rates, with utilities among the only sector 'oversold' right now."