Europe Stocks Extend Gains as U.K. Market Opens After Delay
(Bloomberg) -- European stocks extended their gains after the U.K. equity market started trading following a delay by one hour.
The Stoxx Europe 600 was up 0.4%, with the FTSE 100 gaining as much as 0.6% after the delayed opening, which the exchange said was due to a technical issue. The rally in European shares on Thursday mirrored strong gains on Wall Street, led by advances for financial stocks. European cyclical sectors paced the gains, with banks, autos and tech outperforming as the German bund yield rose back to above 0.5%.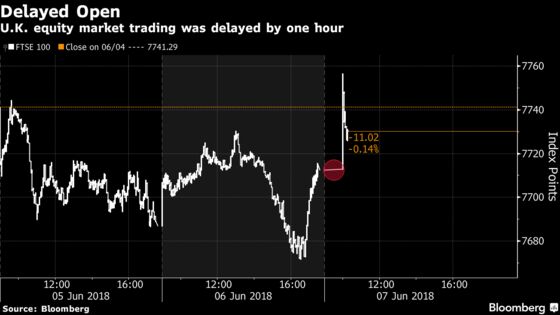 "For now, the situation in Brazil and Turkey is mostly background noise, not enough to really to unsettle European equity markets," Stephane Ekolo, equity strategist at TFS Derivatives, says by phone. "What seems to be a game changer is the ECB's message yesterday on the potential end of QE, this could change all the scenarios we have."