Volatility Clock Turned All the Way Back to January in S&P 500
(Bloomberg) -- As far as volatility goes, stocks are moving backward in time.
To a more peaceful era: the start of the year, before anyone had ever heard of February's VIX histrionics or the technology meltdown of March and April. The Cboe Volatility Index closed Wednesday at 11.64, as four straight declines left it at the lowest point in 131 days.
More and more, February is a memory. That month's abrupt blow-up fueled a 116 percent spike in volatility as U.S. stocks slipped into their first correction in two years. Market angst about higher interest rates, slowing growth and international trade have gradually subsided since then, pushing three out of five main U.S. indexes to record highs.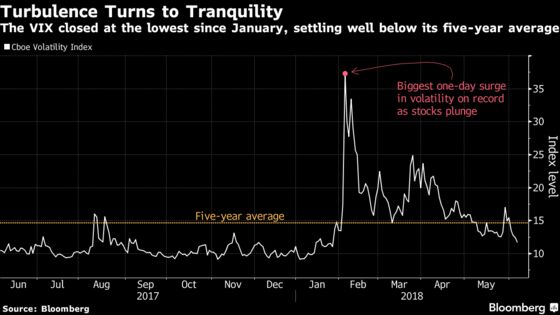 "A lot of things that you were worried about in February have abated to some extent -- earnings are great, trade wars are not viewed as badly, concern about rising rates isn't as pronounced," Robert Parks, managing director in equity derivatives at RJ O'Brien and Associates LLC, said by phone. "There are a lot of things the markets are anxious about, but they have more clarity."
Volatility is likely to stay tranquil for a while, if JPMorgan Chase & Co. derivatives guru Marko Kolanovic is to be believed. The strategist said in a note Wednesday that summertime seasonality, dealer positioning and lower correlations among stocks should keep a lid on turbulence.
"Our view is that the re-risking is likely to continue during the summer as volatility stays contained and investors increase equity positions," he wrote.