Oil Slips After Surprise Increase in U.S. Crude Inventories
(Bloomberg) -- Oil slid lower after a U.S. government report showed a surprise increase in domestic crude stockpiles.
Futures dropped 1.2 percent in New York on Wednesday to the lowest level in almost two months. American crude inventories rose by 2.07 million barrels last week, confounding 12 of 13 analysts in a Bloomberg survey who were expecting supplies to decline. At the same time, gasoline stockpiles increased by the most since December as demand for the fuel weakened.
"The report is best summarized as a rough one, for bulls anyway," said Matt Sallee, who helps manage $16 billion at Tortoise in Leawood, Kansas. "No matter how you slice it and dice it, it was a pretty bearish report."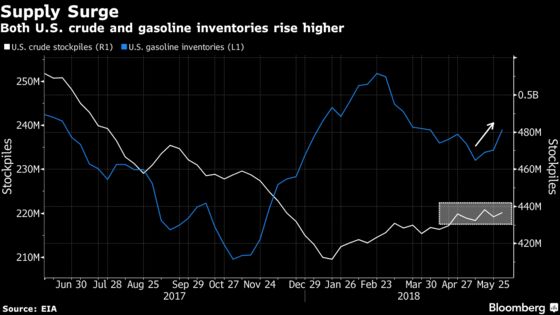 The supply situation in the U.S. is depressing oil prices already weighed down by a U.S. government request that OPEC increase output by 1 million barrels a day. Meanwhile, American imports of Saudi Arabian crude almost doubled to 1.12 million barrels a day last week, the highest since July, according to the Energy Information Administration.
West Texas Intermediate for July delivery fell 79 cents to settle at $64.73 a barrel on the New York Mercantile Exchange.
Brent futures for August settlement declined 2 cents to end the session at $75.36 on the London-based ICE Futures Europe exchange. The global benchmark crude was $10.66 above WTI for the same month.
With WTI trading at a wide discount to Brent, traders were expecting a surge in domestic crude exports, but the report showed a decrease of 465,000 barrels a day.
"As exports have become a much bigger part of the story, one should expect more volatility on the week-to-week numbers," Sallee said.
The government reported gasoline stockpiles rose by 4.6 million barrels, while distillate supplies climbed by 2.17 million, the most since February. At the same time, U.S. crude production jumped to yet another record.
"The market's moving in line with the report, which was a surprise build across the board, with crude, gasoline and distillates all up more than expected," said Matthew Beck, managing director of an $8 billion oil and natural gas portfolio at John Hancock Financial Services Inc. in Boston. "You're seeing prices react to that."
Gasoline futures dropped 1.7 percent to settle at $2.07 a gallon, the lowest since April 18.
U.S. crude exports, including condensate derived wholly from natural gas, rose to an average of 1.76 million barrels a day in April from 1.67 million a month earlier, according to Bloomberg calculations based on U.S. Census Bureau data.
A month after the U.S. re-imposed sanctions on Iran, European oil buyers say they still have no idea how much the region will be required to curb purchases from the Middle Eastern country.