Italian Stocks Set for More Pain Unless Government Changes Tune
(Bloomberg) -- The new Italian government will need to make its message more investor-friendly if it wants to get traders to stop punishing the country's stock market.
The FTSE MIB Index is heading for a drop of about 2 percent this week, reversing most of the tentative rebound seen toward the end of last week, as investors fret over the new populist government and potential policies and spending plans.
"Asking yourself if this government is going to actually implement the foreseen measures is not really important. The right question is: How much pain does the market have to inflict to Italy until the government changes its mind?" said Gianluca Codagnone, head of Fidentiis Equities in Milan.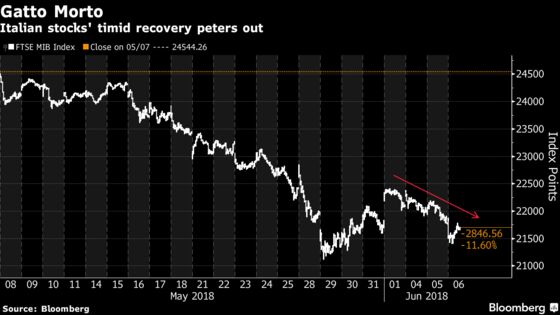 The damage has been particularly acute for the Italian banking sector, which has a significant exposure to the country's debt. The FTSE Italia All Share Banks index slipped into bear market territory in late May, down more than 20 percent from April highs. BPER Banca SpA, Unione di Banche Italiane SpA and Intesa Sanpaolo SpA have lost about 5 percent this week alone.
"It would take more than words to regain investors' confidence. As long as Italy will remain in the headlines, the political 'noise' will prevent investors from buying equities," said Guillermo Hernandez Sampere, head of trading at MPPM EK in Eppstein, Germany. "We need to see reforms, such as some not very popular decisions, like the debt reduction."
UBS Group AG analysts led by Felix Huefner said in a note on Tuesday that the spending plans of the new government are uncertain but "likely to be expensive." The proposed flat tax is seen as the most expensive proposal and would "derail debt sustainability."
According to Marcus Morris-Eyton, a London-based fund manager at Allianz Global Investors, investors remain nervous about the political situation in Italy and were unnerved by the Prime Minister Giuseppe Conte's pledge to implement populist measures.
"I do though think that from a single stock perspective, the volatility in the Italian market is creating some opportunities" in higher-quality, structural growth stocks, said Morris-Eyton, declining to name particular companies. "Importantly, it appears that the euro exit is off the table."