Bank Indonesia's New Governor Discovers Virtue of Communication
(Bloomberg) -- Bank Indonesia's new Governor Perry Warjiyo is embracing communication as a policy tool.
It's a refreshing change for a central bank that was notorious for announcing its rate decisions long after the markets close and sometimes late into the night, frustrating analysts and media. Warjiyo, who took over last month, has pledged to announce monthly rate decisions by 2 p.m. and hold a weekly press conference after Friday prayers.
Warjiyo's clarity in articulating the central bank's policy and its readiness to add to a second rate hike in May have helped the nation's currency become the best performer in Asia since he was sworn in as governor on May 24. "The pre-emptive, front-loaded and ahead of the curve" tightening is luring foreign investors back into the nation's bonds and stocks, according to the governor.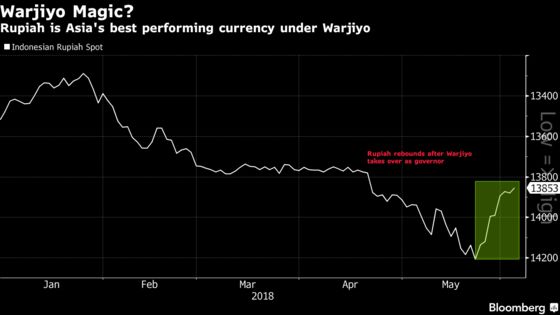 "For me communication is not public relations but one of the policy instruments," Warjiyo told reporters in Jakarta on Wednesday. "I'm sure expectations can be made rational with the quality and content of your information."
Indonesia has been one of the hardest hit economies in Asia amid a global emerging-market selloff sparked by rising U.S. interest rates and a stronger dollar. With the Federal Reserve widely expected to raise rates again next week, central banks from Argentina to India are bracing for further volatility.
The rupiah has gained 2.5 percent against the dollar since Warjiyo took office, the best performer in Asia. While the yield on benchmark 10-year government bonds has dropped about 40 basis points, the Jakarta Composite Index of stocks has advanced almost 5 percent, according to data compiled by Bloomberg.